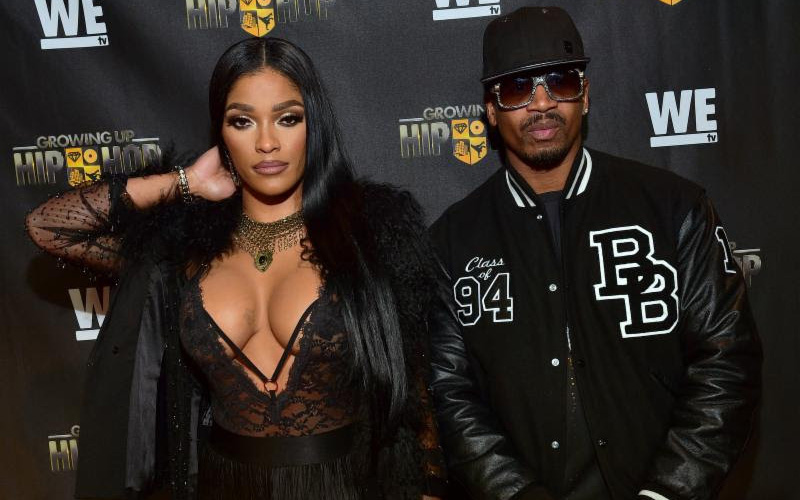 It's no secret that Stevie J and Joseline Hernandez have had their ups and downs in their relationship. But baby, this latest break-up seems like it might be for good because it's hard to take back the war of words that are flying between these two.
Let's rewind to how it all started. Joseline Hernandez went to Atlanta's Hot 107.9 and participated in an interview where she aired Stevie out for denying that they were ever married.
We are separated and we are married and that's what guys do when they get upset, they lie, they go on tour and instead of announcing their new music when they havnt had on the air in 20 years + plus, you go on tour and disclaim your beautiful wife thats been nothing but good to him. I've been nothing but great to you, I've been a great wife to him, I've been cheated on, lied to and I stood by him…and when I packed up and I left the home,the best thing you can go on tour and start disclaiming your wife…you look like a sucka…real men don't do that, if you gon go on the radio, have a hot song, don't call the radio station on no stupid shit…
Stevie caught wind of Joseline's comments and wound up his petty real good and decided to take aim and threw a fastball right at Joseline's head on Instagram.
So Stevie not only denied that Joseline and he were ever married, but he also trashed Joseline's music. Now no one is out here claiming Joseline as anybody's Nicki Minaj, but considering Stevie J was her manager and her one-time champion, these are stinging words coming from his mouth.
His words clearly cut deep too, because Joseline went on an absolute tirade on Instagram, posting threats that she would out Stevie as gay and then she straight up threatened Stevie's life posting pictures of various women (Lindsay Lohan and Pam Grier) with guns.
https://www.instagram.com/p/BGR0SLOKPKW/
https://www.instagram.com/p/BGR5s7MqPLy/
https://www.instagram.com/p/BGR62A7qPPw
https://www.instagram.com/p/BGR7PnpqPBB/
https://www.instagram.com/p/BGSAHfSKPBk/
https://www.instagram.com/p/BGSAZI-KPCW/
https://www.instagram.com/p/BGSBRrVKPFX/
So … to Mona and the folks at VH1, y'all might could need some serious extra security at the Love & Hip Hop Atlanta reunion this year because Joseline Hernandez is taking NO prisoners. The Puerto Rican Princess is FINNA BE LIT, bruh!
Be the first to receive breaking news alerts and more stories like this by subscribing to our mailing list.