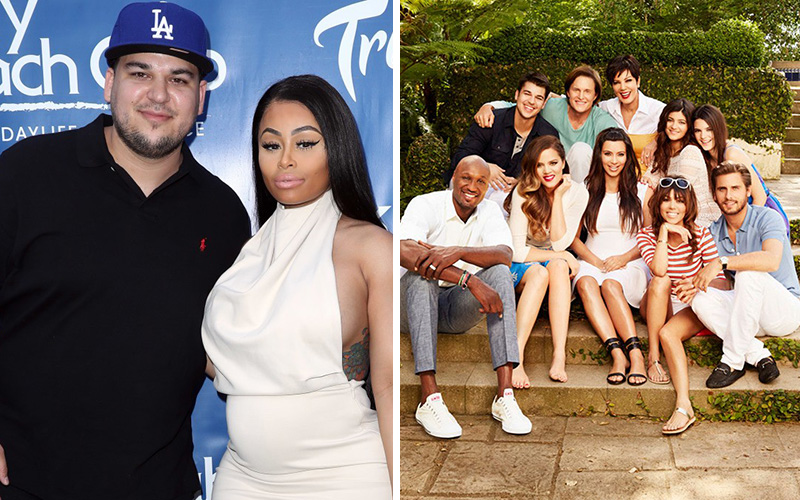 It turns out America has something to fear more than fear itself, or even Donald Trump. Rob Kardashian and his fiancee, Blac Chyna, are getting their own reality show, according to E!.
This is the same network that has brought us Keeping Up With the Kardashians (KUWTK) and the spin-offs Kourtney & Khloe Take Miami, Kourtney & Khloe Take New York, Khloe & Lamar and Kourtney & Khloe Take the Hamptons. Thanks to E!, you can't swing a dead cat without hitting a member of the bodacious-booty-ed clan.
The new docu-series, tentatively titled Rob & Chyna, will chronicle the whirlwind "romance" of the happy couple from their engagement, to Chyna's pregnancy and all the cringe-worthy moments in between. The duo will also work as co-executive producers on the show.
Just in case six mind-numbing hours showcasing the life of a "video vixen" and overprivileged slacker baby daddy isn't enough to have you running out for Mylanta, plans are also in the works for a separate special, focusing on the birth of the couple's first child and latest Kardashian scion.
Season 9 marked the beginning of the end of Rob's onscreen presence on KUWTK. He went largely and inexplicably M.I.A.. There were rumors of depression, health issues (he's since been diagnosed with diabetes) and weight gain. Rob skipped out on sister Kim's lavish wedding to music mogul Kanye West, and in March of 2015, he compared Kim to Rosamund Pike's homicidal character in the film Gone Girl. While his sisters and mother voiced concern, Rob's Howard Hughes-like behavior was never fully explored or discussed.
Rob's return to the spotlight can almost be entirely attributed to his romance with Chyna, who also happens to be the ex-paramour of rapper Tyga, Kylie Jenner's on-again, off-again love interest. Let's face it, the only differences between the Kardashians and Honey Boo Boo, Mama June and their disturbingly incestuous family is boatloads of cash and good genes (or good surgeons).
Rumors that Rob and Chyna were dating began in January of this year. The news came as an unwelcome surprise to Rob's family, especially given the vicious ongoing feud between sisters Kylie and Khloe and Chyna and her bestie Amber Rose, due to digs Rose and Chyna have taken about Kylie and Tyga's relationship (the couple is currently no longer dating).
Despite his family's objections, Rob and Chyna became engaged in April and announced in May that they are expecting their first child. Now, a reality series makes four. It would appear Chyna is a millennial Yoko Ono, determined to fracture the tight-knit Kardashian's and grab some of the spotlight for herself.
This trashy modern-day Romeo and Juliet debacle proves just too tempting for E! to pass up. So Mama Bear Kris Jenner is going to have her hands full maintaining her family's empire with an ambitious, D-List daughter-in-law joining the family fold.
When KUWTK first aired, the affluent Kardashian-Jenner clan may not have been The Brady Bunch—Kim was already a household name thanks to a sex tape she made with then-boyfriend, Ray J. Season 1 focused on the misadventures of the unorthodox family with a stage "momager" and a revered, yet put upon, Olympic gold medalist at the helm.
But over the years, the Kardashians have become never-ending fodder for the tabloids with quickie marriages, nude photo shoots, bickering siblings, drug addiction and alcohol abuse, fertility woes, lavish parties and weddings, and high-profile relationships, including the rocky romance between Kourtney Kardashian and her man-child, ex-boyfriend, Scott Disick.
Now, they are indisputably the first family of reality TV who strategically air their dirty laundry (all designer labels, of course) when it benefits their latest entrepreneurial projects. Having undergone so much plastic surgery—and one gender transition—personal dramas, and generally bad behavior, they more closely resemble a cast from American Horror Story. Their presence is so pervasive in the pop culture landscape, it's become impossible to get through one news cycle without their names being mentioned. And with the next generation already on-screen vets, there would appear to be no end in sight.
Rob was the last holdout. In 2014, a source revealed to Radar Online that Rob was convinced reality TV ruined his family, turning them into narcissists only concerned with fame and fortune. Just try to get through an episode where everyone is not entirely pre-occupied with their phones, looking up news stories about themselves or indulging in non-stop selfies.
Whatever caused Rob to distance himself from his family, he's basking in the glow of being a tabloid darling. He and Chyna are already shopping pics of their unborn baby around to the highest bidder. And viewers are bound to tune in to see how his relationship with Chyna and her inevitable conflicts with his family play out.
It looks like Rob Kardashian's only real objection to fame was that he wasn't reaping the benefits. Please stop this train and let me off before it wrecks.
Be the first to receive breaking news alerts and more stories like this by subscribing to our mailing list.