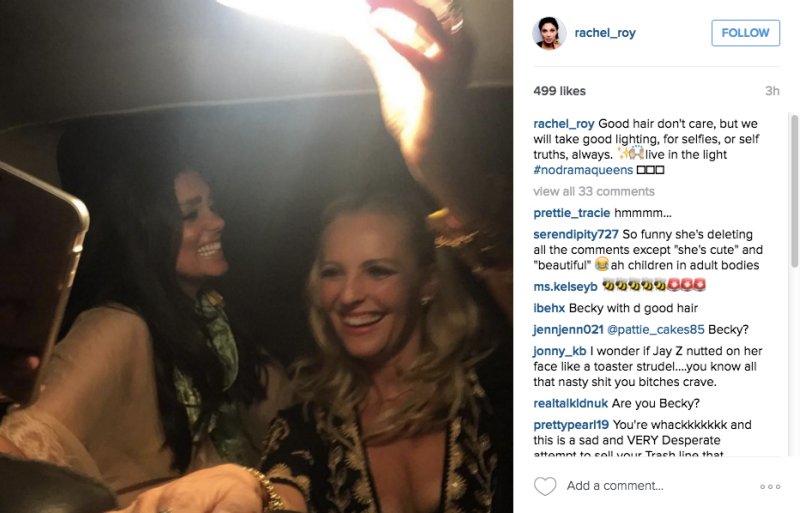 Beyoncé set the Internet and the world on fire with the release of her Lemonade visual album, which debuted in a primetime HBO special.
A major theme of Lemonade is infidelity — Jay Z's infidelity in particular (allegedly, of course) — and in the last line of "Sorry," a song about a husband's affair and the wife finding out about it, Beyoncé says, "He better call Becky with the good hair."
The particular lyric had Twitter LIT with folks scrambling to figure out who exactly Beyoncé was referring to. Then, for reasons unbeknownst to many, Rachel Roy decided to just go on ahead and out herself (perhaps as a joke?), which was a TERRIBLE mistake on her part.
Let's take it all the way back to May 2014 when Beyoncé, Jay Z and Solange made headlines for their infamous "elevator fight," in which Solange pummeled Jay Z with a barrage of slaps and punches all while Beyoncé just stood there calmly as if her sister wasn't beating the shit out of her husband.
In the days and weeks following the incident, a major theory about the origins of the fight started spreading around the blogs.
The gist of the rumor is that Jay Z cheated on Beyoncé with Rachel Roy, and Solange confronted Roy about it at the 2014 Met Gala. It's believed that Jay Z tried to mediate the situation (bad move!) and while on the elevator, Solange physically attacked him.
Fast forward to now, and Rachel Roy has no problems playing into those rumors. In an Instagram post shared the night of Beyoncé's lemonade premiere (see above), Roy insinuated that she was "Becky with the good hair."
"Good hair don't care, but we will take good lighting, for selfies, or self truths, always. live in the light #nodramaqueens," Roy wrote in the caption of a photo of her and a friend laughing.
After drawing the ire of the BeyHive, Rachel deleted her post and made her Instagram page private, but it was too late because the damage had already been done.
In addition to nasty (and hilarious) comments from Beyoncé's fans on Roy's original IG post and on Twitter, the fashion designer found her Wikipedia page hacked:
Wikipedia is hilarious. How they throwing shade at Rachel Roy already? pic.twitter.com/QDKt57V8xi

— derecka purnell (@dereckapurnell) April 24, 2016
@progressagent Peep "Becky with the good hair tried it" ? pic.twitter.com/u0c4sKcZEh

— Jazzmin Carr (@Jazzmin_Carr) April 24, 2016
Rachel Roy's Wikipedia page ?? pic.twitter.com/GSzpi79CPn

— WORLDSTARHIPHOP (@WORLDSTAR) April 24, 2016
Rachel Roy's Wikipedia & insta page ??
Died under a lemonstand.
I don't feel bad for you, you asked to get dragged pic.twitter.com/810rLMWjKn

— E (@eSHEIKH_) April 24, 2016
Rachel Roy is on hold with Wikipedia customer service currently like pic.twitter.com/VPHob6gyrH

— Matthew A. Cherry (@MatthewACherry) April 24, 2016
rough numbers: rachel roy's wikipedia page was edited 182 times in the 72 minutes before it was locked down

— brian feldman (@bafeldman) April 24, 2016
CRYING! Wikipedia put a semi-protection lock on Rachel Roy's page because of the frequent "edits" LOL! pic.twitter.com/jE6AUNHfzr

— Shauna Stuart (@ShaunaReporter) April 24, 2016
https://twitter.com/AntiFleek/status/724243039233798144
So I googled Rachel Roy. That damn Hive done changed her name to Rachel Roach & called her an American Thot on her Wikipedia ????

— actually, idc. ????? (@MyLifeAsJ) April 24, 2016
https://twitter.com/hautedamn/status/724241418550562816
After some time, Rachel Roy's Wikipedia page was restored to its normal state. To prevent further edits, according to a message from Wikipedia, "due to vandalism," Roy's page will remained locked until April 26th … at which point the BeyHive will likely return and deface it once again because have no chill and aren't looking to acquire any anytime soon.
Be the first to receive breaking news alerts and more stories like this by subscribing to our mailing list.