Still rocking her kinky, curly wig of wisdom, Rachel Dolezal thrust herself back into the spotlight in yet another sitdown interview on the Today show with Savannah Guthrie.
You remember Rachel Dolezal, the white lady who became famous after she was caught pretending to be black while serving as the president of a Spokane, Washington NAACP chapter, right?
Last time Rachel sat down with Savannah, she threw ol' girl for a loop when Guthrie tried to pin her down on TV to admit that she was not in fact black, as she had claimed all these years.
Savannah clearly did not learn a DAMN thing because she once again tried to corner Rachel into confessing that she is in fact a white woman wearing sunless tanner, a curly wig and Queen Latifah-style big hoop earrings.
The most annoying part is how Savannah tried to tip-toe around the question, which provided Dolezal with all the wiggle room she needed to be evasive.
SAVANNAH: Have you done any reflecting since we first talked a year ago on just how this all happened? Did you feel now that you have any regrets about some of the things you said about yourself that have now been revealed to not be true?

RACHEL: I don't know what you're referring to with that but definitely I don't have any regrets about how I identify. I'm still me and nothing about that has changed.
See, think whatever you may think about Rachel's whole "transracial" phenomenon, but Rachel Dolezal will not be backed into a corner.
If you're gonna come for Ms. Dolezal, then come for her. But don't soft peddle into it. Be direct and don't be mealy mouthed with it, Savannah.
Poor Savannah tried to polish up her question with a follow-up after Rachel masterfully deflected her like: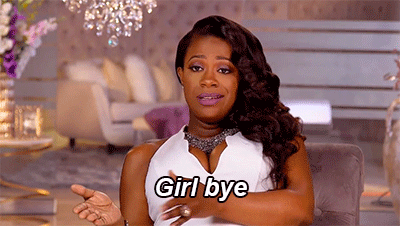 SAVANNAH: I guess I meant the fact that over the years you had allowed people to believe that you were born black, which you now acknowledge you were born white, but you clearly identify as a black person. In the light of day, looking back at it now, do you feel like 'I wish I had been more up front about that. It would've saved me a lot of heartache.'?

RACHEL: You know, not necessarily. I do wish I could've given myself permission to name and own the me of me earlier in life. It took me almost 30 years to get there. Certainly, I feel like it's a complex issue. How do you just sum up a whole life of kind of coming into who you are in a sound byte? So those conversations, I feel like, moving forward, I don't have any regrets about that.
Please, Savannah, stop the pleasantries and just say what's really on your mind: Bitch, when are you gonna stop pretending that you're not white?
Rachel is back in the media because she's writing some book and she hopes to get back to teaching and social justice. Really, she needs to be in PR because I've never seen someone master the art of making noise with their mouth and saying absolutely nothing. Her spin game is seriously on fleek.
Watch Rachel Dolezal's sitdown with the Today Show and Savannah Guthrie up top!
Be the first to receive breaking news alerts and more stories like this by subscribing to our mailing list.