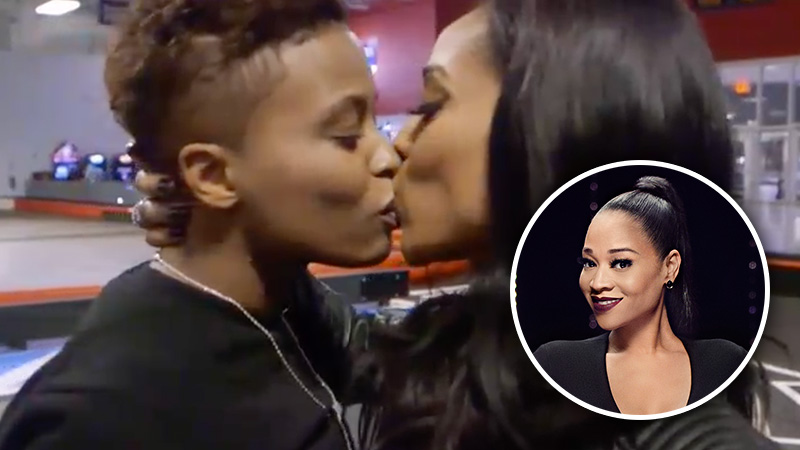 Mimi Faust is clapping back at all her haters who say she is "gay for pay."
After it was revealed on Monday night's (Apr 4) premiere of "Love & Hip Hop Atlanta" that Mimi is in a relationship with a woman named Chris Gould, the reality star faced criticism from fans who accused her of being gay on the show simply for the sake of a good storyline
Mimi's baby daddy and Love & Hip Hop Atlanta co-star Stevie J also voiced his disapproval over her new lesbian relationship and told TMZ he doesn't want their daughter raised in a lesbian household.
https://www.instagram.com/p/BDzFKLRhJz4/
Mimi initially claimed to be "unbothered" over the whole situation (as you can see above in the Snapchat screenshot she posted on Instagram), but not anymore.
It seems as though she's had enough of what Stevie and everybody else has had to say about what she does with her life, and she took to Instagram to address the matter.
"In 2016 we should not be using gay and lesbian as a way to degrade someone. Someones sexuality is not a reflection of their character and more importantly what type of parent they are. The most important thing is that the child feels love regardless of whether it comes from a man or a woman. We should continue the strides we have made over the last 50+ years and allow people to be who they are."
https://www.instagram.com/p/BD3qZYphJ5q/?taken-by=mimifaust&hl=en
She captioned another photo on IG (below): "Don't judge… Just love."
https://www.instagram.com/p/BD5vyYMhJyr/
Honestly, who can blame Mimi for deciding to get her kitty cat scratched by another woman every now and then after dealing with Stevie J and his doggish ways.
Besides, anyone (male or female) is better than Nikko, right?
Be the first to receive breaking news alerts and more stories like this by subscribing to our mailing list.