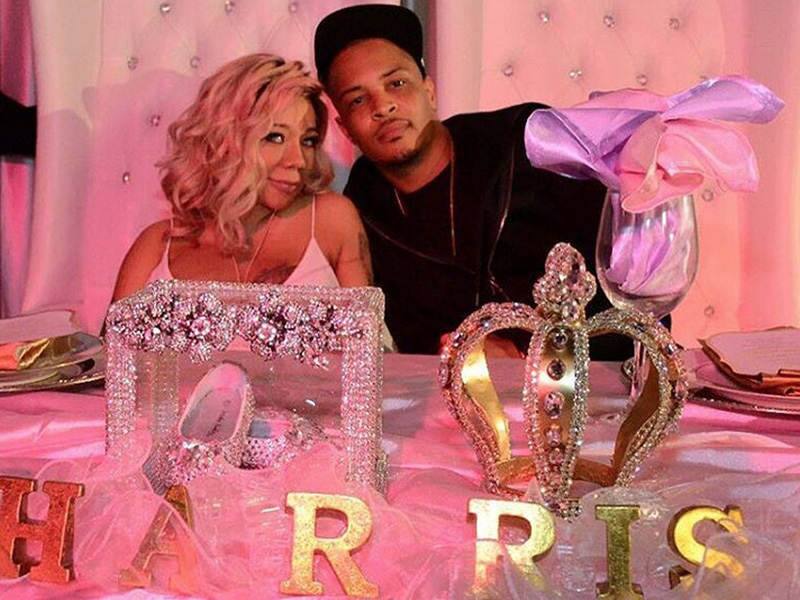 T.I. and Tiny welcomed a newborn daughter last month, but the baby girl's name hasn't been officially announced yet. Or has it?
"Welcome Home Heiress!!!" Tip wrote on Twitter along with a photo of him toting his newborn daughter in a baby carrier. "The Ride Begins… #FamilyHustleOverErrrthang."
Welcome Home Heiress!!!
The Ride Begins….#FamilyHustleOverErrrthang pic.twitter.com/wPKuTyK7Es

— T.I. (@Tip) April 4, 2016
So, apparently, T.I. and Tiny's newborn daughter's name is "Heiress?" If so, that makes her full government name "Heiress Harris."
News of the baby's early arrival was revealed by T.I.'s niece Kamaya Harris last on Saturday, March 26th when she shared a video on Snapchat.
"My little cousin is here," she said. "Last night I went to go see my auntie [Tiny] and she had the baby today."
Tiny later confirmed the news herself via Instagram:
"My sis @kandiburruss came to visit me on this special day! I love her 4life!!#Lucky7"
According to an official statement from Tiny, the baby wasn't supposed to come until around April 20th, but she decided to make her debut about a month earlier than that.
"March 26th, at 2:58PM we welcomed a beautiful baby girl that weighed in at 5lbs," Tiny said. "In true Harris fashion, our baby girl made us all HUSTLE, making a surprise early entrance. While we expected her to arrive around April 20th, our PERFECT baby girl decided March 26th was the right time for her DEBUT."
Tiny also cleared up some rumors regarding whether or not T.I. was there to see his baby girl come into the world. Even though the rapper was booked for two shows (one in Las Vegas, the other in Greenville, SC) the weekend of her arrival, he was still able to be a part of her birth, Tiny said.
Thanx 2Errrbody who came out & Roc'd wit us 2night… We Was #TURNT 2da MAXXX @DraisLv #HustleGangOverErrrrthang pic.twitter.com/2APx22BXXd

— T.I. (@Tip) March 26, 2016
Special Thanx to errrrbody who came out in Greenville SC last night. #ShitWasLIT??? #HustleGangOverErrrrthang pic.twitter.com/6bL1yZzQhw

— T.I. (@Tip) March 27, 2016
"My husband, Tip Harris, went from the stage right to the plane from his show in Las Vegas and luckily, made it to Atlanta with time to spare," she noted. "Our whole clan was together to see our beautiful healthy baby girl make her way into the world. Just the way I like it!!"
Baby Heiress was nicknamed "#Lucky7" by her parents because she's their seventh collective child, after Major, King, Deyjah, Domani, Messiah and Zonnique.
If her name is Heiress, it fits right in line with some of her older siblings' royal names.
Congrats to the Harrises on their new addition to the family!
Be the first to receive breaking news alerts and more stories like this by subscribing to our mailing list.