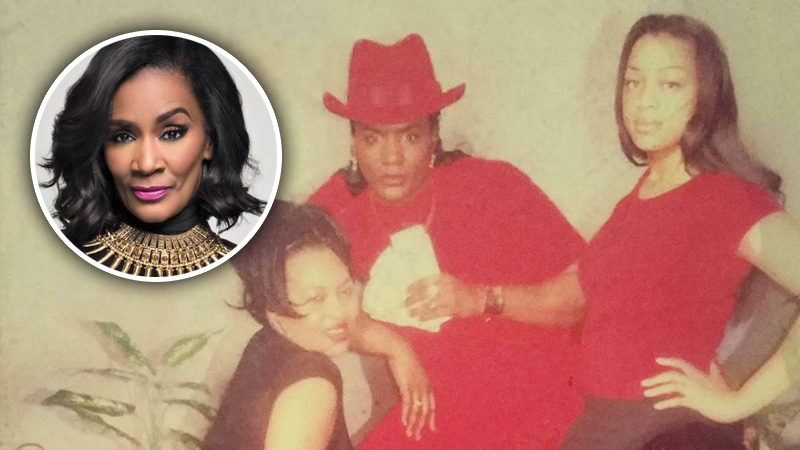 These days, Momma Dee spends the majority of her time acting the fool and doing the absolute most Monday nights on "Love & Hip Hop Atlanta." But back in the day, Momma Dee was a real life, certified pimp.
For the past few months leading up to Love & Hip Hop Atlanta's fifth season premiere, which aired on VH1 last night (Mon. Apr 4), Momma Dee has been randomly sharing #TBT (Throwback Thursday) photos of her from her former days as a pimp.
#TBT A Pimp and some of her Pimpettes!!! This was before there was a Love and Hip Hop.. #BitchBetterHaveMyMoney pic.twitter.com/hBFdz39uxw

— Momma Dee (@ThaRealMommaDee) March 31, 2016
https://www.instagram.com/p/7BQVWGmlQq/
Momma Dee spoke on her pimpin' past back in 2012 in an interview with Tom Joyner after the first season of "Love & Hip Hop Atlanta" premiered.
"What happened was … What people don't understand is that I have a degree in nursing and then a 16-year-old hit me head on. And he was drunk. And it took me three years to learn how to walk again. Within those three years, no one in my family came to boil a pot of water or do anything for me and my kids. I couldn't work because every five years I would have to get a new hip.

"And when you have those types of surgeries, it takes your four or five months to even walk again. And it was hard. And I had to get on food stamps and welfare, you know. So there was no one to get school clothes and put toys under the tree. Who was going to do that? And I'm not a beggar. So I got it myself. And it wasn't by force — it was by choice."

Momma Dee said she in no way glorifies that type of lifestyle, and said she just did what a mother had to do to survive. She doesn't appreciate people judging her who have not walked in her shoes nor lived what she had to go through.

When Joyner asked Momma Dee if she had any other career options, she replied: "I couldn't walk, get out of the house, I had physical therapy. What did you want me to do from the bed? And when I was able to get around, it was on crutches."

"But how did you become a pimp from your bed?" Momma Dee was asked. "Because I can control certain things that come from my mouth. See, anytime you get inside the head, the tail gonna follow. I owned a brothel. I had a place for them."

Mamma Dee said she grew up in a middle-class family and was never introduced to that lifestyle as a child. But as an adult, while she was recovering from her injuries and needing extra income, this was the profession most readily available to her.

"I had an older pimp called Sir Charles and he came to me and he said, 'You need to get this paper. I can show you how to get this paper.' So he took me under his wing and I studied him and then, boom, I did it," Momma Dee explained.

After starting the pimp game from her bedroom, she eventually recovered well enough to get around in a wheelchair and then on crutches. She adopted the name "Lady Dee" and ran a brothel for 10 years before deciding to get out.

She denies it was hard leaving that lifestyle of easy, quick cash behind. She actually treated her "employees" like those of any regular job when she got out of the game.

"No, it wasn't hard," she emphasized. "I told the girls you have two weeks. Either you can be on your own or go to another pimp. But you've got to do what you got to do."
Be the first to receive breaking news alerts and more stories like this by subscribing to our mailing list.