For the past month or so, rumors have been floating around that Bow Wow is dating R&B singer Keyshia Cole.
So far we haven't been able to confirm if the two are romantically linked, but a message Bow Wow delivered on Twitter today tells us that they were at one point indeed a couple, and things are no longer good between them.
Bow tweeted early this morning that one of his "exes" who is trying to get revenge on him threw a cake and eggs on two of his friend's cars thinking they were his.
Today is Bow's 29th birthday, so it's obvious why "the ex" chose today of all days. That also explains the cake and eggs.
So one of my exes decides to drive by on some thin line between love and hate **** throw a cake on the rolls. Only thing is thats not my car

— Bow Wow (@smoss) March 9, 2016
But we looking at the camera footage and see exactly who it was. Its flattering…. Just know this… We on your bumper.

— Bow Wow (@smoss) March 9, 2016
His friend Wackstar (whose car was caked and egged up) revealed who the bitter ex was when he blasted Keyshia Cole on Instagram for vandalizing his car.
Well damn. Just call her out, why dontcha?
According to TMZ, Keyshia is denying she was involved with the incident and she supposedly called Bow Wow out on Twitter for snitching.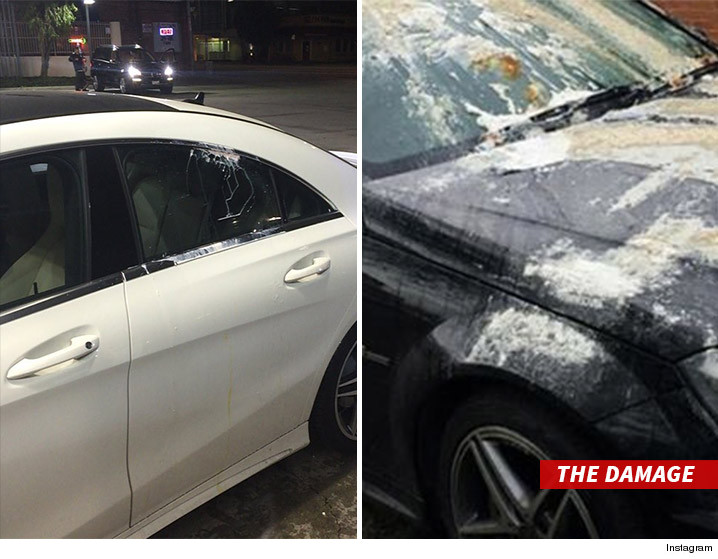 Bow's crew on the other hand are adamant Keyshia is the culprit and think she is retaliating for Bow ending their relationship, which we had no idea was a thing until recently.
Regardless of what happened, Bow isn't letting a single soul ruin his special day.
We up! Its my birthday. Not letting nothing stop this day. God deals w those who need to be dealt w/. Lets be positive today! 29

— Bow Wow (@smoss) March 9, 2016
We're not saying Keyshia did it, but there was that one time she beat up a chick she caught at Birdman's condo … so this isn't too far-fetched.
Be the first to receive breaking news alerts and more stories like this by subscribing to our mailing list.