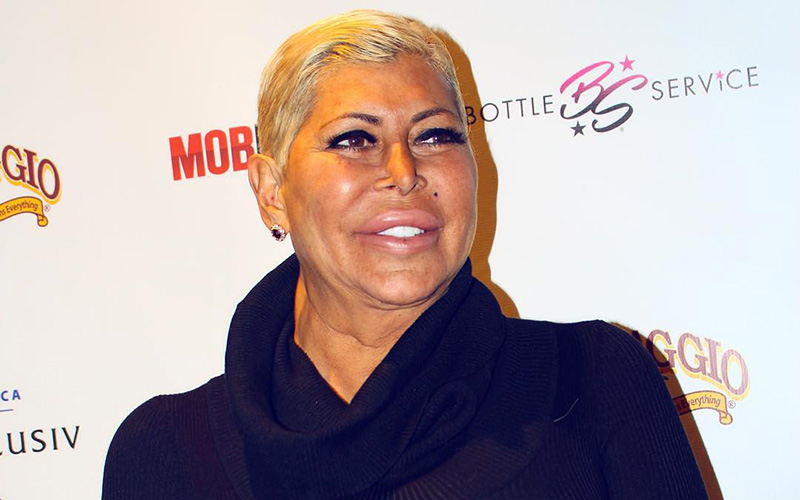 Mob Wives star Angela "Big Ang" Raiola died early Thursday morning (Feb 18) following her battle with throat, lung and brain cancer. She was 55 years old.
Wednesday night, ET Online broke the news that Big Ang had already passed away, however, a statement was released through the reality star's family stated that she was "fighting for her life."
Now it looks like that fight is over after Big Ang's social media pages confirmed Thursday morning that she died just after 3 a.m.
"It is with sad regret that we inform you that at 3:01 a.m. Angelia Raiola peacefully ended her battle with cancer, and was called home," read a post on her Twitter page from friend Vinnie Medugno.
"She was surrounded by nothing but love from her immediate family, and the closest friends. YOU, (her fans) were some of the most special people in the world, and she loved you immensely. Thank you for your love, prayers, and unconditional support of Angela right to the very end."
This is @vinniemedugno on behalf of the family of Angela Raiola, please see below: pic.twitter.com/wiuPApr9Lw

— Angela Raiola (@biggangVH1) February 18, 2016
The death comes after the reality star faced many hurdles in her health including stage 4 lung and brain cancer. In fact, Janine Detore created a Gofundme page in early February to help fund her sister's final treatments. She also updated fans on her family member's condition.

"On January 26th the doctor reviewed her CT scan and informed us that the treatment was not working, and in fact one tumor grew larger and the other tumors had no change. We were advised that she would start immunotherapy the following week," she wrote. "Well here we are at the emergency room waiting to see why her breathing is labored and the amount of pain she is having is by far more than she could handle."

She continued, "Angela cannot function to work anymore…We all thank you in advance for your prayers & kind wishes. Help Big Ang fight her BIGGEST BATTLE!"

When later appearing on The Dr. Oz Show Feb. 16, Big Ang revealed the dire prognosis doctors had given her. Unfortunately, she only had a 30 percent chance of survival.

"It's shocking what happened," she shared. "First I thought I was cancer-free. I was gonna have a big celebration…and then a month later I was stage 4."

Back in April 2015, Big Ang was hospitalized after doctors discovered a large throat tumor. She underwent surgery to try and remove the trouble spot. As a result, doctors told the reality star in October that she had beaten the disease. Ultimately, the cancer returned in December and had spread to her brain and right lung.

Ever since her introduction to reality TV on VH1's Mob Wives, Big Ang has developed quite the loyal fan base. Thanks to her larger than life personality, the former bar owner earned herself two spin-offs [Big Ang and Miami Monkey] and even a role on Scary Movie 5.

And while she was never one to shy away from a fun time or a dramatic sit-down with her co-stars, Big Ang had an incredible bond with her family including her sister, two children and grandchildren. One quick look at her social media will show how much the star loved her "inner circle."

"There are no greater words to describe the bond that sisters have," Big Ang wrote on Facebook after one of her surgeries. "My fans are the best, and I am blessed to have such wonderful people in my life."
Angela "Big Ang" Raiola is survived by her husband Neil Murphy, two children and six grandchildren.
Be the first to receive breaking news alerts and more stories like this by subscribing to our mailing list.