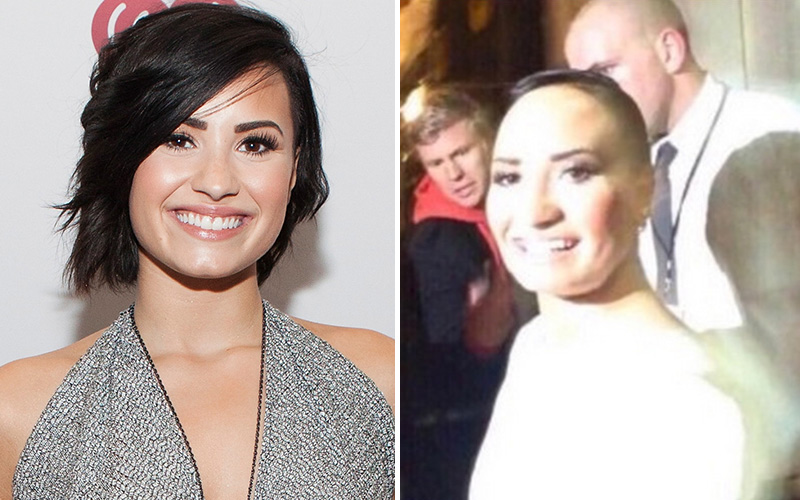 Demi Lovato is NOT amused by that Poot Lovato meme.
Lovato became the subject of a hilarious Internet meme this month after someone posted a very unflattering photo of her on Tumblr with the caption:
"Demi's twin sister. She was locked in a basement her whole life. This picture was taken the first time she went outside. Her name is Poot."
The post has since been deleted (the original user cstcrpt deleted their account, according to BuzzFeed), but that didn't stop the Internet from running with the conspiracy theory that Demi Lovato has a secret twin named Poot Lovato.
So, in true Internet fashion, memes started spreading all over social media:
https://twitter.com/Wolveeeeees/status/658352106051534848
http://therealpootlovato.tumblr.com/post/131770361620/hisroyalhighnessmalik-zaynsgrammys-demi-so
http://fuckingvixenmanipulativebitch.tumblr.com/post/131268751352/has-this-been-done
Someone even created a Twitter account with the handle @OfficialPoot and has been tweeting all month, racking up nearly 20K followers in the process.
https://twitter.com/OfficialPoot/status/653709958647795712
https://twitter.com/OfficialPoot/status/653722206963376128
https://twitter.com/OfficialPoot/status/655176897580634112
https://twitter.com/OfficialPoot/status/656565775893995521
https://twitter.com/OfficialPoot/status/656687682832179201
https://twitter.com/OfficialPoot/status/656883091739381760
https://twitter.com/OfficialPoot/status/657288679589879812
As you can see, Poot Lovato is very straightforward and a little vulgar.
And some of her lingo comes from another Demi Lovato meme from 2014 about a faux encounter in which Lovato allegedly ridiculed a fan at a meet-and-greet about her weight, flicked her in the vagina and later harassed her on social media.
Look below for the backstory on that (make sure you click the next button)
Lovato herself has denied the incident, calling it the craziest rumor she's ever heard. (Sidebar: "Delete it fat" has to be one of the funniest things ever written.)
In addition to the memes, hashtags (#JusticeForPoot) and the parody Twitter accounts, there's also the fan fiction — like this story on Wattpad recounting Poot's origins called "The Secret Life of Poot Lovato."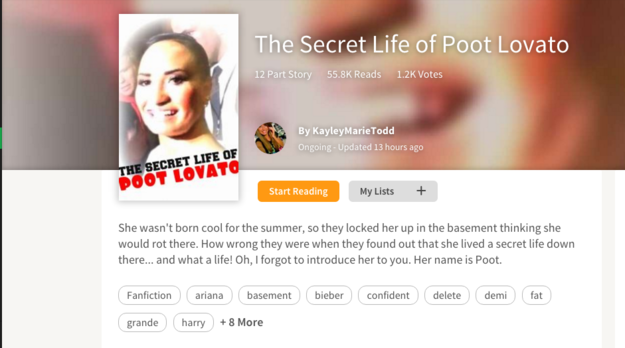 "She wasn't born cool for the summer, so they locked her up in the basement thinking she would rot there," the story's intro reads. "How wrong they were when they found out that she lived a secret life down there… and what a life! Oh, I forgot to introduce her to you. Her name is Poot."
Here's an excerpt from the story:
The two newborn twins were the cutest thing on earth. All the relatives were staring at them in awe, as they mumbled incomprehensible noises. And if Demi and Poot were so similar when they were only a few months old, the first differences started to become clear when the sisters passed the year of age.

One beautiful fall afternoon, while the twins were playing in their room, dad came in and Poot stared at him. Then, she started stuttering: "D… d…"

"Hurry, come here love! Poot is about to say her first words," dad screamed as his wife rushed into the room.
According to a now-deleted Wikipedia entry, there isn't much known about Poot Lovato, other than a rumor that she has the "voice of a feral angel" and is working on her debut album.
Here's a screenshot taken before the page was removed: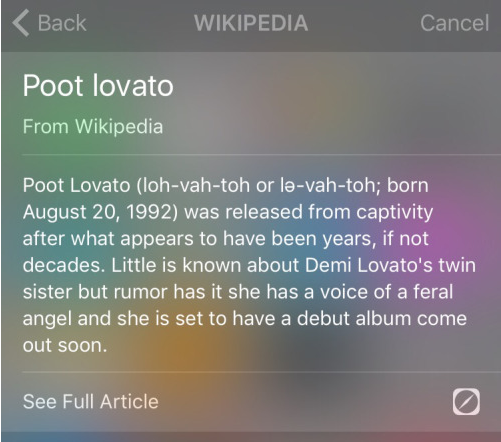 Hilarious, right? Of course it is! Too bad Demi Lovato doesn't think so. On Sunday, she tweeted (then deleted) a response to the meme, and she clearly is not amused.
"Cool to see a shitty angle turned into a meme that circulates the Internet to people's amusement ha," she wrote. "Oh, and make actual 'headlines.'"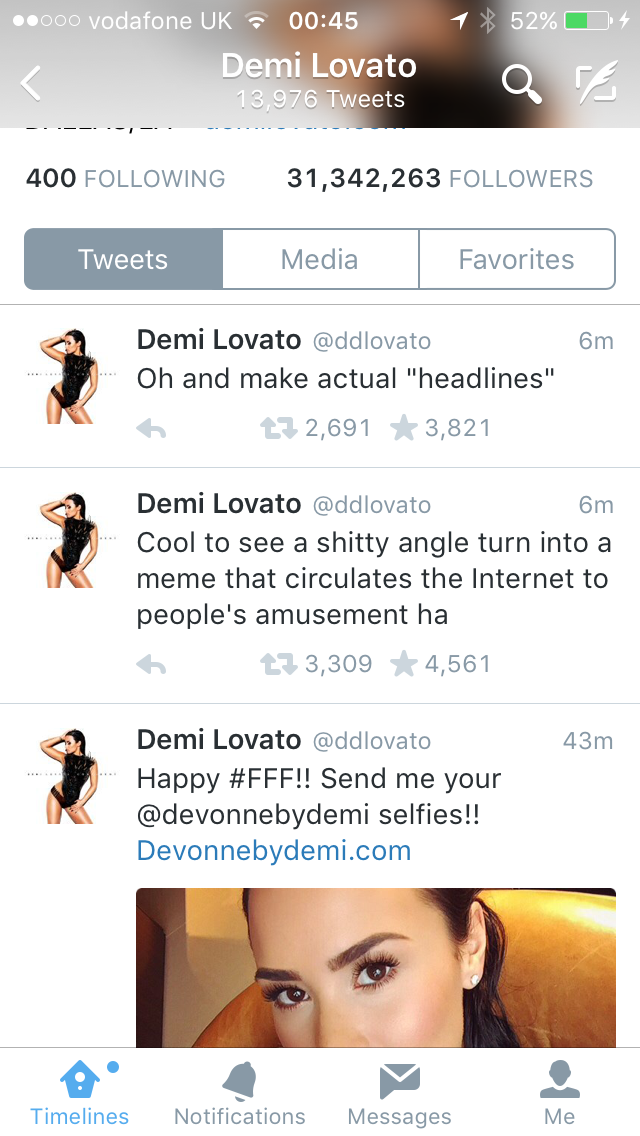 Aww, man. Now the meme isn't (as) funny anymore because the person who it's about hates it 🙁
DELETE IT, FAT!
Be the first to receive breaking news alerts and more stories like this by subscribing to our mailing list.