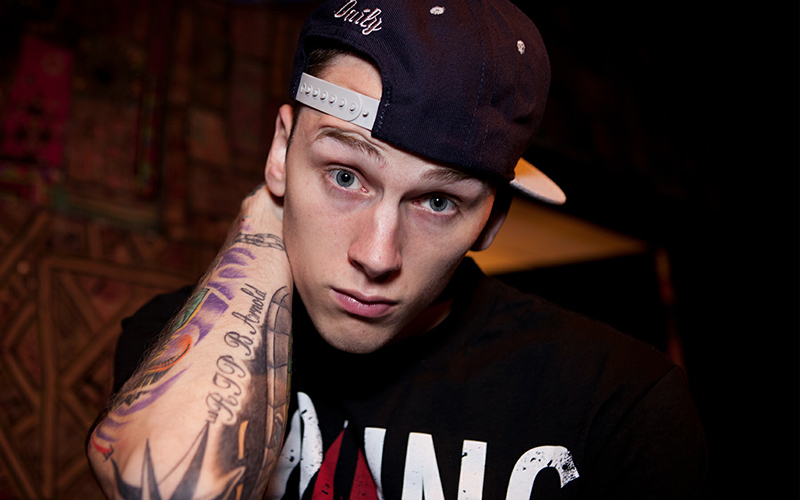 Machine Gun Kelly released his sophomore album General Admission earlier this month (Fri, Oct 16) and he believes the project isn't being pushed like it should because of an old tweet from 2012 he posted about Eminem's daughter.
The Hip Hop newcomer sat down for an interview with Hot 97's Ebro In The Morning last week and explained the story behind the tweet and how he feels like it has hurt his relationships in the industry and with certain media outlets, essentially blackballing him.
The tweet in question said: "ok, so i just saw a picture of Eminem's daughter… and i have to say, she is hot as f*ck, in the most respectful way possible cuz Em is king."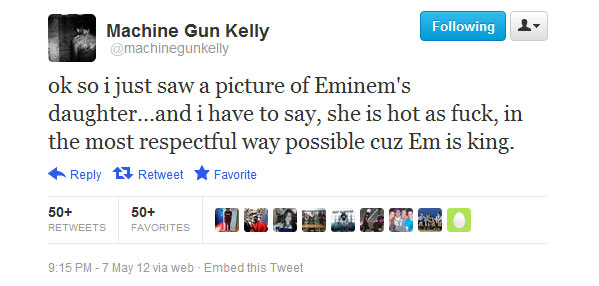 MGK told Ebro:
"At the time, I didn't think that that was a thing. I'll tell you this situation, 'cause this is something that I feel like – quiet as it's kept – is the reason why certain things [don't happen].

"Pictures of [Hailie] had came out, and I'm like, what, 20 years old, 21 at the time? I said 'She's beautiful, but all respect due. Eminem is king. What's wrong with that? Is there a 15-year age gap where I'm a creep for that? I was 21, dawg.

"Certain people took it, and ran with it and hyped it up. […] Certain people won't even listen or review [my album]. Certain places, you won't even hear Machine Gun Kelly on. Certain things won't even happen.

"Look, a friend of mine said it best yesterday. They said 'Why do you care? You came into the industry blackballed. You already came in with everyone hating you.' So I'm not stressing it man, 'cause I'm not wrong."
In case you're not aware, Eminem personally has his hands in some very prominent Hip Hop outlets, most notably Shade 45 (a very Sirius XM satellite radio Hip Hop station he owns) and the popular Hip Hop website Rap Radar, of which his manager Paul Rosenberg is an investor.
To be fair, Rap Radar does, in fact, post about MGK, so we're not sure if he was referring to them or another Hip Hop site(s), and there are also rumors that he has been "banned" from Shade 45.
MGK asked co-host Laura Stylez what made her ask about the incident.
"I remember hearing that you were banned from Sirius XM, and I was always trying to figure out why you were banned from Sirius XM," she said. "Or maybe specifically just Shade 45, which is Eminem's channel. I heard somebody mention it, so I was just curious."
At that point, Ebro basically told him to keep his head up and changed the subject by getting him to drop a freestyle.
In addition to his blackball allegations, MGK also talked about his split from Amber Rose, and of course his new album.
Peep the full interview below (the discussion about Em's daughter happens around the 34:50 mark):
Be the first to receive breaking news alerts and more stories like this by subscribing to our mailing list.