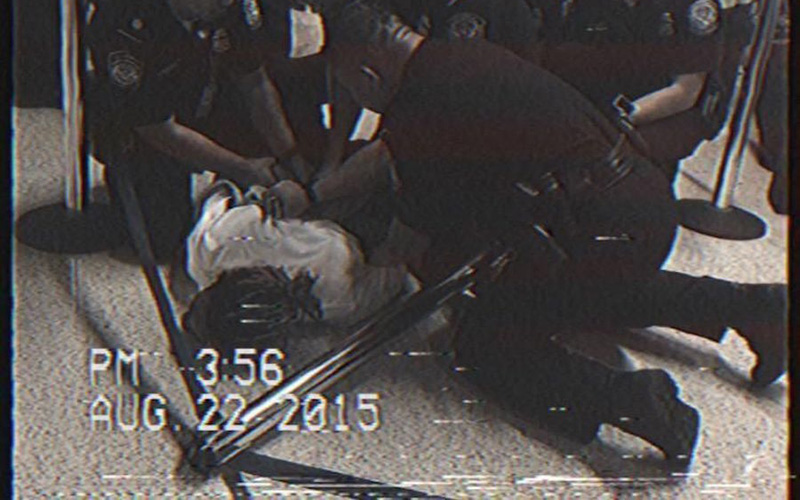 Wiz Khalifa was briefly detained at LAX airport Saturday (Aug 22) after he was arrested for the oh-so serious crime of riding a "hoverboard."
The 27-year-old rapper posted multiple videos of the encounter on Instagram and Twitter. In one clip he can be seen being taken down by a number officers yelling "stop resisting!"
He was returning to Los Angeles after performing a concert in Finland when he was surrounded by a number of officers who were ordering him to dismount what is being referred to in the media as a "hoverboard."
It isn't clear as to why he was even stopped in the first place, but what is clear is that Wiz Khalifa was slammed to the grown and told not to "resist" even though, to his credit, it is blatantly obvious that he is not resisting.
His crime? Riding one of those newfangled two-wheeled personal transportation scooters that are similar to Segways, but without the handlebars, and way cooler. (You control it with your feet!)
In one video clip posted to Twitter, Khalifa can be seen trying to roll away from the cops (the maximum speed on the scooters are about 10-12 mph).
All because I didn't want to ditch the technogy everyone will be using in the next 6 months. Do what you want kids. pic.twitter.com/7F0KIQgFrA

— Wiz Khalifa (@wizkhalifa) August 23, 2015
"You can't do nothing anyway," he says. "What you gon' do, put me in jail because I didn't listen to what you say? You can't do nothin'. You can talk, we can have all the conversation you want to. You can end up on TMZ. You guys can become as famous as you wanna be."
And that's exactly what happened. By Saturday evening, the post was up on TMZ. "Wiz Khalifa Busted At LAX For Riding Hoverboard" was the headline.
https://instagram.com/p/6tLvg8ndp9/
A clip posted to Instagram shows as Khalifa was being subdued and laying on the ground with his hands pressed against his back and nearly half a dozen officers pinning him down, he was ordered to "get on the ground" and "stop resisting."
"I'm not resisting, sir," Khalifa can be heard saying over and over.
They love sayin stop resisting. pic.twitter.com/v2tdOOikMy

— Wiz Khalifa (@wizkhalifa) August 22, 2015
"They love saying stop resisting," the rapper later noted on Twitter. "Haven't been slammed and cuffed in a while. That was fun," indicating that this ain't his first time at the rodeo.
Jaime Ruiz, a spokesman for the Customs and Border Protection didn't provide any details about the incident, citing privacy laws, but he did release a statement to the media.
He also said that while Wiz Khalifa was detained briefly by airport security, he was never officially "arrested" and charged with anything, and the rapper later apologized.
"U.S. Customs and Border Protection (CBP) strives to treat all travelers with respect and in a professional manner, while maintaining the focus of our mission to protect all citizens and visitors in the United States," Ruiz said.
"All travelers arriving into the U.S. are subject to CBP inspection, and for their own safety and the safety of other passengers, must follow officers' instructions while in the Federal Inspection Service area.
"CBP officers are conducting their critical national security mission while facilitating the entry of legitimate travelers. An uncompliant passenger or any disruptive behavior could put many at risk in this highly secure area."
In an e-mail to the L.A. Times, Ruiz said that on any given day at LAX, the CBP can screen up to 25,000 travelers, and distractions can prove dangerous.
"An unruly, disruptive passenger could create a chaotic situation, which could result in a vulnerability to our national security," he said. "Imagine there is a terrorist, or a fugitive waiting in line waiting for a distraction like this – it is really serious."
That doesn't really explain why they were so aggressive with someone who was obviously not being "unruly" or "disruptive," but whatever, Mr. Security Guy.
Be the first to receive breaking news alerts and more stories like this by subscribing to our mailing list.