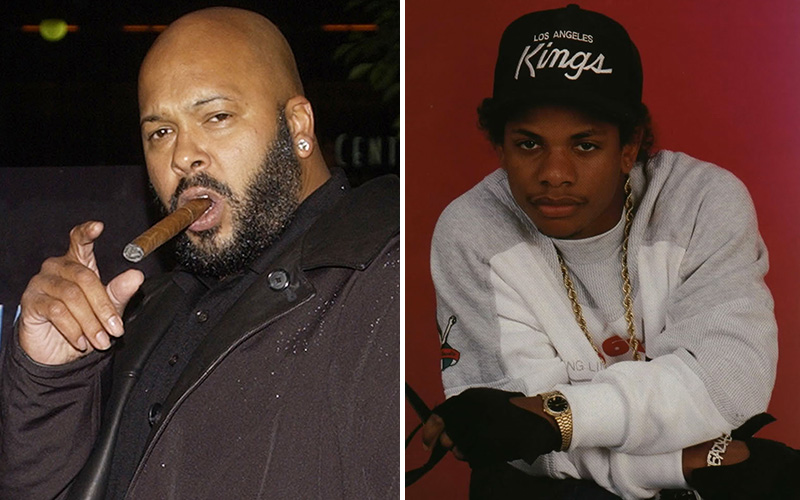 With "Straight Outta Compton" now in theaters, there's old footage of Suge Knight going around that has the Internet wondering if he had something to do with the death of NWA member Eazy-E, who died of AIDS in 1995.
Back in 2003, Knight appeared on "Jimmy Kimmel Live!" and spoke on how they are killing people with AIDS needles and jokingly called it "the Eazy-E thing."
"See, technology is so high. So, if you shoot somebody, you go to jail forever. You don't want to go to jail forever. They have a new thing out. They have this stuff they called — they get blood from somebody with AIDS and they shoot you with it. That's a slow death. The Eazy-E thing. You know what I mean?"
(He talks AIDS needles and Eazy-E at the 2:00 mark)
Knight could have easily just been joking around*, but with his track record — you know, being in the car when Tupac was shot and currently being in jail for running over two men, one of which he killed — we wouldn't be surprised if Suge knows exactly what he's talking about.
Plus, former N.W.A. manager Jerry Heller said in an interview that Eazy-E really wanted to kill Suge Knight, but Heller talked him out of it. So maybe if Suge really did inject Eazy with an AIDS needle, he did it as a pre-emptive strike?
[*] Who jokes about shooting folks with AIDS needles though?
Be the first to receive breaking news alerts and more stories like this by subscribing to our mailing list.