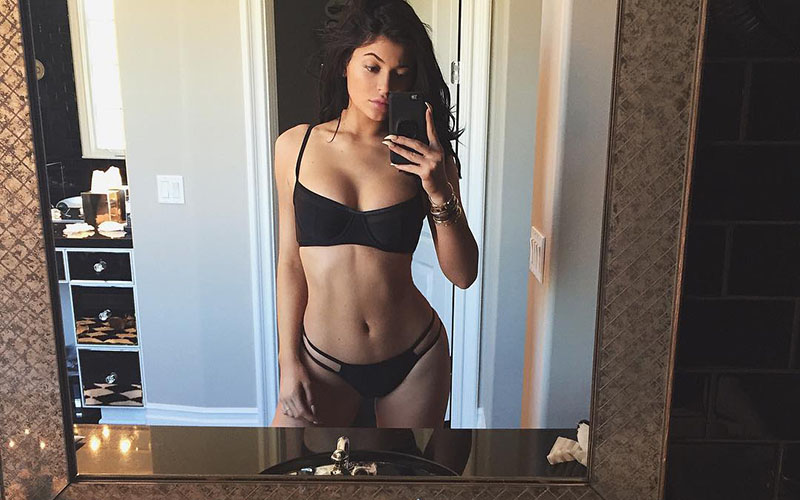 Kylie Jenner turning 18 has every porn company coming after her like vicious vultures.
According to TMZ, from Vivid Entertainment to Digital Playground, Kylie has been getting several different offers to make an adult film.
Vivid Ent. head honcho Steve Hirsch is said to be offering $10 million for a sex tape featuring Kylie and her boyfriend Tyga, and it looks like he's using her sister's name to try and convince her.
"Kim's sex tape helped launch her career and would be nothing but positive for you," Hirsch wrote in a letter to Kylie.
Porn website BangYouLater is offering $1.8 million (which is SIGNIFICANTLY lower than $10 mil) and promises to make Kylie's tape bigger than her sister Kim and Paris Hilton's. However, there's a catch: they're only paying if Kylie & Tyga follow through with at least 22 minutes worth of footage.
"This event will make you even more famous than either Kim K or Paris Hilton. Your scene must be at least 22 minutes in length," BYL said in a statement.
As for Digital Playground, their offer is to make Kylie the company's brand ambassador and they're encouraging Kylie to give the camera a try. The company said:
"Now that you are of legal age, we would like to offer you the opportunity to be Digital Playground's Brand Ambassador! We know you'll be great at this and with your banging body to match, maybe you'll be interested in becoming an adult star yourself! Join DigitalPlayground.com and be welcomed into a new, hornier family."
Welcome to a "new, hornier family?" Sounds fun, but no thanks. We're sure Kylie has better things to do with her time than filming a porno with Tyga. (Or at least we hope so.)
Be the first to receive breaking news alerts and more stories like this by subscribing to our mailing list.