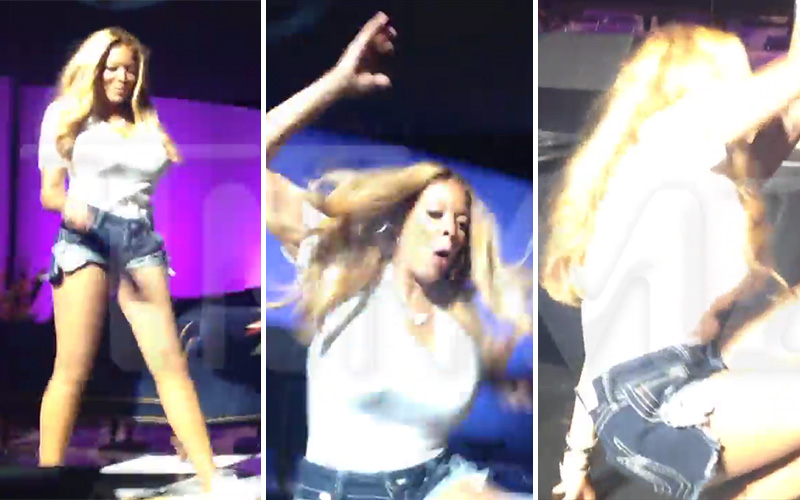 Oh, the irony. Wendy Williams took a hard fall this past weekend during her comedy show in Houston, Texas, which so happens to be called the "Sit Down Tour … Too Real For Standup." We guess Wendy really is "too real for stand up."
The talk show host was walking off the edge of the stage when she accidentally tripped and tumbled down the stairs.
Shorts WITH GRANNY STOCKINGS ON😭😭😂😂 RT @CED_LUVS_BEY: "@Ignant_MF: How you falling? 😶 @WendyWilliams pic.twitter.com/AkR5pyYQgG"😭😭😭

— Die With You (@LoveMyBeyonce) August 9, 2015
Fans in the audience captured footage of the fall, but luckily for Wendy she recovered in true diva fashion. And of course she had to talk her shit to everyone who witnessed it.
"Shut the fuck up! Shut the fuck up, OK?!? There's the fall that never happened. So, put that on YouTube.

"Number one, this is like our seventh city on our 12-city comedy tour. Number two, every stage is different.

"I didn't see that shit. I am 12 feet tall…but you caught it right? Did you catch my 51-year-old recovery?"
Further proving that she's a good sport, Williams also joked about the incident on Twitter, reminding herself that it's the "Sit Down Tour," not the fall down tour.
Forgot it's the "Sit Down Tour" not the fall down tour. #wendywilliamstour #ouch http://t.co/MdsWnoiTSY

— Wendy Williams (@WendyWilliams) August 9, 2015
Be the first to receive breaking news alerts and more stories like this by subscribing to our mailing list.