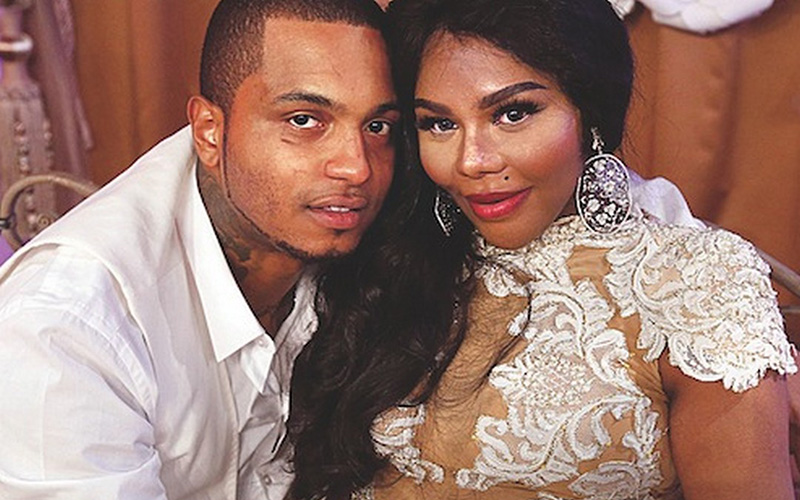 Lil Kim is currently embroiled in a nasty custody battle for her daughter Royal Reign with her baby daddy Mr. Papers, and the pint-sized Brooklyn femcee had reportedly taken things to the next level by filing a domestic abuse lawsuit against Papers, claiming that the aspiring rapper beat her up.
Bossip reported that Papers (real name: Jeremy Neil) has made several attempts to see the daughter he shares with rapstress Lil Kim — 1-year-old Royal Reign Jones Neil — ever since the former couple broke up over cheating claims last year when Royal Reign was only two months old.
27-year-old Papers had filed for visitation rights, saying that Kim is blocking him from seeing their baby, and asking the family courts for at least one day a week to parent Royal Reign. He's even reportedly agreed to have a court-approved monitor supervise the visits.
In response to Papers' court filing, Lil Kim (real name: Kimberly Jones) not only failed to attend his court hearing, but the 41-year-old also fired back with a domestic abuse lawsuit accusing him of beating her.
Mr. Papers insists that things never got physical during their relationship, and he believes Kim's domestic abuse lawsuit against him is simply a ploy to further prevent him from seeing their child.
"She's playing really dirty now with the domestic situation," Papers' publicist Tasha Hilton told Bossip. "There has never been any domestic violence."
About the former couple's daughter Royal Reign and the custody battle, Hilton added, "He's not trying to take custody, he's not trying to take her. He is literally just trying to see her. He's been trying to do it very quietly."
Kim has since backtracked on her claims that Papers beat her up. According to a follow-up report from Bossip, the femcee's lawyer told a Family Court judge last Wednesday (Jul 29) during a hearing that the two were working to settle their case.
The diminutive diva, real name Kimberly Jones, had earlier asked a judge to issue a permanent restraining order against Mr. Papers, aka Jeremy Neil, after she claimed in court papers that he beat her up.

Kim made the allegations shortly after Papers filed for visitation of the tot, who he hasn't seen in eight months. A permanent restraining order would've affected the child custody case.

"We are working towards an amicable solution," Papers' lawyer Ronald Bar told Bossip.

Kim showed up five hours late for the hearing, and arrived in full makeup, dressed in a floral print dress, jean jacket, long blond wig with studded stilettos. She, along with Papers and their lawyers, spoke animatedly together for about 45 minutes before they saw the judge.

There seemed to be no love lost between Papers, 27, and Kim, 41, who complained loudly before the hearing began of her disdain for her one time lover. "I hate him," Kim told a companion. "I don't understand why people like him exist."

Outside court, Kim became hysterical when a reporter asked her about her feelings on the case. "Don't do that! I am telling you – don't do that!" Kim screamed before calling the reporter a "b***h."

"Are you a mother?" Kim said. "When you're a mother, you'll understand!"
Mr. Papers' publicist said the pair met when three years ago when he was 24 and she was 38, and they struggled with issues such as infidelity throughout their relationship.
"They had a lot of challenges with regard to being faithful and infidelity," Hilton said.
But regardless of where his relationship with Lil Kim stands, Mr. Papers has made it clear that he will be there for his daughter no matter what.
"He doesn't want his daughter to grow up and think her father didn't care about her," Hilton said. "The one thing that does matter to him is having his daughter in his life."
And all the man is asking for is just ONE day a week. You can't let this man see his child ONE day out of SEVEN, Kim?
Most women have to fight for their baby daddy(ies) to even acknowledge their children, and here she is fighting to keep a father away from his kid. What kinda mess is that?
Just in case you haven't seen Baby Royal Reign, here are a few photos proud mom Lil Kim posted on Instagram on the tiny tot's first birthday:
https://instagram.com/p/3tairNPsfu/?taken-by=lilkimthequeenbee
https://instagram.com/p/3uWTADvsb3/?taken-by=lilkimthequeenbee
https://instagram.com/p/3ufwq4vsd6/?taken-by=lilkimthequeenbee
https://instagram.com/p/3ujQm9PsTx/?taken-by=lilkimthequeenbee
Be the first to receive breaking news alerts and more stories like this by subscribing to our mailing list.