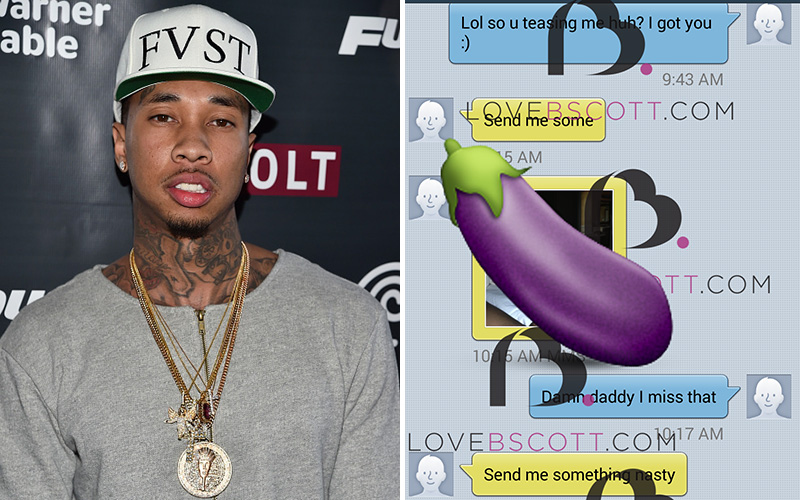 Pictures of Tyga's penis ended up on the Internet yesterday after the blog Love B. Scott published a story about the rapper cheating on Kylie Jenner with a transsexual model named Mia Isabella.
Now Tyga is lawyering up in an effort to find out who got a hold of his private dick pics because he says he never sent them to Mia Isabella, a transsexual model who also has a fully functioning penis (Ed. Note: Google her name, click on her official website, and see for yourself).
According to Love B. Scott's exclusive story, which got picked up by a number of blogs and was popular enough for Tyga's name to trend on Twitter for several hours, the "Hookah" rapper allegedly sent the pics to Isabella, with whom the rapper had reportedly had an "ongoing relationship" with for about three years.
Love B. Scott's report also included more than three dozen screenshots of alleged text messages between Tyga (or someone pretending to be Tyga) and Isabella, and a couple of them had very explicit photos showing Tyga's dick, and you can tell it's his dick because of Tyga's very recognizable tattoos.
Tyga has no choice but to admit that the penis pics are his own, but what he's not copping to is being involved in an "ongoing relationship" with a transsexual.
Tyga's lawyer, Lee Hutton, tells TMZ he believes the rapper is the victim of a conspiracy designed to "maliciously shame" him. While the photos are authentic — you can see some of his tattoos — Tyga's lawyer believes the person he sent them to betrayed him … and used them to manufacture a fake story.
Tyga has yet to speak up about the incident, but he did tweet yesterday, "Smh. The devil is working hard today. Lol."
Who is "the devil" in this case? Blac Chyna A crazy ex?
Smh. The devil is working hard today. Lol

— T-Raww (@Tyga) July 7, 2015
Tyga also shared this message on Instagram:
My focus is always on the positive and building up those around me. I'll never understand why people choose hate and negativity over anything else.
https://instagram.com/p/42Vq8Jqep0/
Be the first to receive breaking news alerts and more stories like this by subscribing to our mailing list.