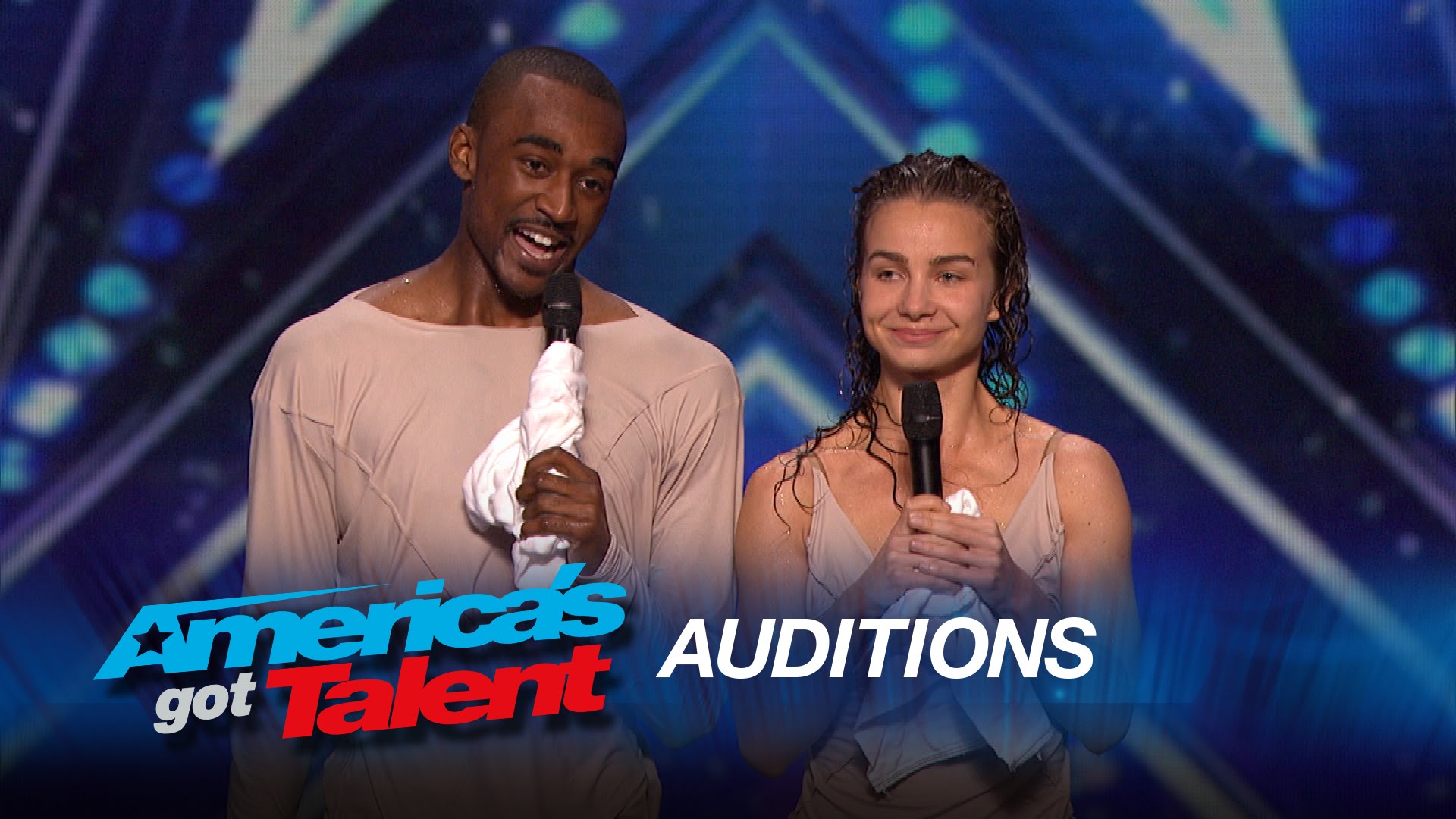 Sorry, "America's Got Talent" contestants, if your name isn't Heavenly Joy Johnson, or if you aren't a part of Freckled Sky, it might be time for you to just go home now before you get your hopes up. Because between these two, we may have found the winners for Season 10!
It has been predicted that Freckled Sky — made up of dancers Jalen and Olga and visual artist Val — could be crowned the next winner of "America's Got Talent" after the duo won the crowd and the judges over with a spectacular performance that not only included dancing, but also incorporated a bunch of dope visual elements.
Watch here:
Olga said of their routine before taking the stage, "This is a whole deeper level. What we're doing tonight is not only about dance. It incorporates so many other elements." Jalen introduced Val, the mastermind behind their act, saying he "brings in a vision, the ideas, and creates the stories that we tell."

And Val, who is from the Ukraine, confessed to the camera, "I sold everything I have in the world to take part in this show. Being here, it's the first step of what I've been dreaming of my whole life."

The act then began with Jalen doing a contemporary routine as he got soaked with water in front of a virtual screen depicting a rainy night. Olga then joined him, getting drenched herself, as they told a story through their dance moves and the light-infused images behind them.

Howie Mandel could be heard exclaiming, "Oh, wow," as they continued, before the whole panel gave an enthusiastic standing ovation.
Howard Stern called the performance "SPECTACULAR!"
He went on, "I gotta tell you, that's the kind of thing I'm looking for. Absolutely different." The shock jock then encouraged Val, whom he called a "genius," to come out and take a bow.

"I was so moved by this piece, I'm going to do something special," Stern continued, standing up and pointing to the Golden Buzzer on the judges' table. "You know what that button means, Val? It means you would be rewarded with a trip straight to our live shows, you know that? I'll tell you what, let's do it."

Stern then pressed the buzzer, kicking off explosions of confetti. He told the contestants, "Welcome to 'America's Got Talent!' That's the way you have an audition! I don't do that for anyone, but I'm doing it for you because I love what you guys do."
In case you're not familiar with how AGT's new "Golden Buzzer" works…
Each judge can only use the advantage once, prompting Heidi Klum to admit to Stern, "The entire time I was thinking, I'm going to hit my Golden Buzzer, I'm going to hit my Golden buzzer. And then you did it!"

Mel B went on to tell Freckled Sky, "I've never seen anything like that before. You deserve that golden buzzer." And Mandel declared, "I believe that what I just witnessed was the possible winner of this whole contest. "

Mandel then told his fellow co-stars, "I really believe they can win."
Other acts who have received the coveted "Golden Buzzer" — which catapults contestants straight to the live rounds — include the stuttering comedian Drew Lynch (given by Howie Mandel), gospel singer Sharon Irving (by Mel B) and the 11-year-old opera singer Arielle Baril (Heidi Klum).
Check out the rest of the "Golden Buzzer" acts below:
Be the first to receive breaking news alerts and more stories like this by subscribing to our mailing list.