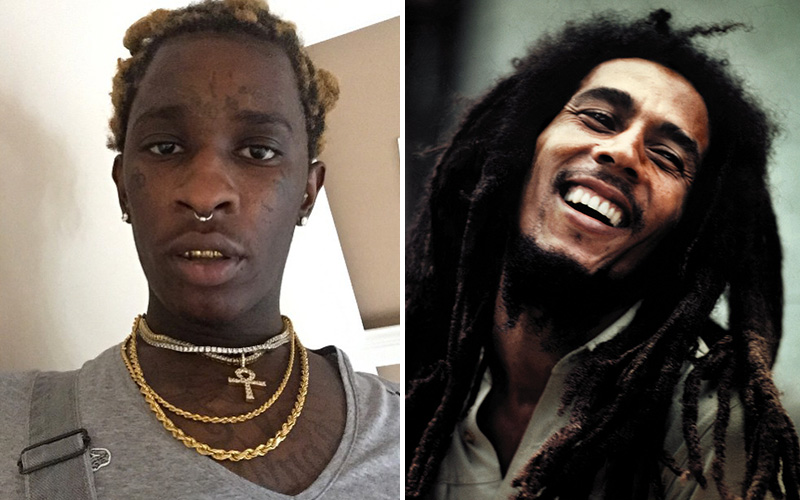 Kanye West thinks that Young Thug is a modern day Bob Marley … or at least that's what Young Thug is telling the world.
In the past, Yeezy has been known for making outlandish comparisons of current and new coming artists to actual real legends, once even comparing himself to Michael Jordan, Steve Jobs, Walt Disney and Michael Jackson.
At Big Sean's private listening party back in 2011 at the Standard Hotel, Kanye was quoted saying his protege could be as big as Beyonce.
So it shouldn't have come as a surprise when Young Thug told Rolling Out magazine in his new cover story that Kanye donned him as Bob Marley and wants to do a whole album with the "Lifestyle" rapper.
"[Kanye] didn't have a phone for like three or four years," Young Thug says. "When I first met him, I went to his house and he was like, 'We gotta keep in touch; here's my email.' But he came on tour with Travis Scott and me. [Kanye] said he has a phone now because he has a wife. So he had to get a phone. But he called me Bob Marley. We [were] backstage at one of the tour dates at the Staples Center in L.A. and Kanye was backstage. He had a Beats Pill and was like, 'I wanna hear all of your music in the world that's not out.' So I was letting him hear all the music. Then he said I was like Bob Marley and he wanted to do an album with me. I was like, 'Let's roll!' He's a fan. So that leads back to me saying fans are the main reason you stay motivated and become who you want to be. Kanye is like my brother, but he's a real fan. He bought me some Yeezys and went on eBay to get them for me. That's motivation."
Young Thug and Bob Marley? GTFOH, Kanye! Bob Marley is rolling in his grave as I type this.
Be the first to receive breaking news alerts and more stories like this by subscribing to our mailing list.