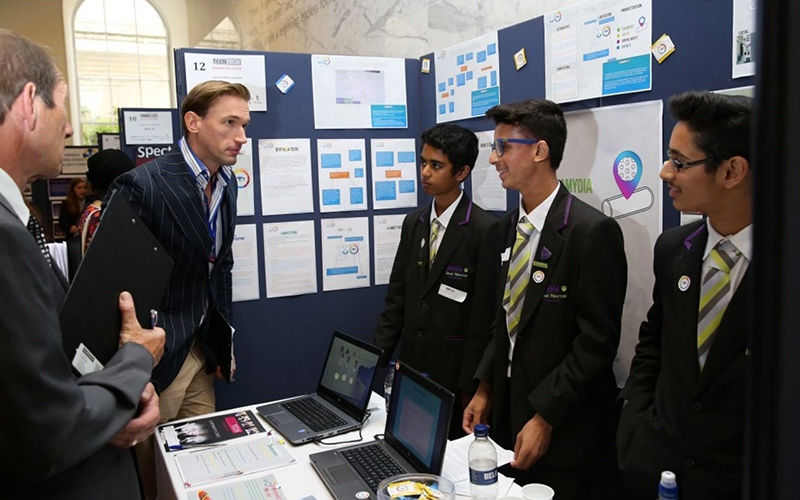 Sh*t is about to get real. FOR real.
A group of teens have come up with an ingenious way to detect if you or your sexual partner has an STI.
Three students from Isaac Newton Academy in England created a smart condom called the "S.T. EYE" that changes color when it comes into contact with an STI such as chlamydia, syphilis, or herpes.
For example, if the condom is exposed to chlamydia it would glow green, or yellow for herpes, purple for syphilis, etc.
14-year-olds Daanyaal Ali and Chirag Shah, as well as 13-year-old Muaz Nawaz, won the top prize in the future of health category at the U.K.'s TeenTech Awards.
"We knew that STIs were a huge problem in the U.K." Daanyaal told The Washington Post. "We saw a gap in the market and we wanted to help people feel safer."
Daanyaal also explained how their new innovation would allow people to find out about their sexual status in the privacy of their homes.
"We wanted to make something that make detecting harmful STIs safer than ever before, so that people can take immediate action in the privacy of their own homes without the invasive procedures at the doctors.

"We've made sure we're able to give peace of mind to users and make sure people can be even more responsible than ever before."
The boys have a long way to go until their idea could become a reality.
As TIME magazine points out, "It seems unclear whether the STIs would be detected in just the user's partner or also the user as well. In addition, there's the awkward question of what would happen if the condom came into contact with two or more STDs—not to mention the logistical difficulties of figuring out a way to determine the color with sufficient opportunity to make use of those findings."
However, condom companies are already reaching out to the teens to help make their dream come true.
It would be a group of nerds who we're sure have never even gotten close to seeing a vagina in person to come up with a condom that detects STDs. Oh, the irony!
Be the first to receive breaking news alerts and more stories like this by subscribing to our mailing list.