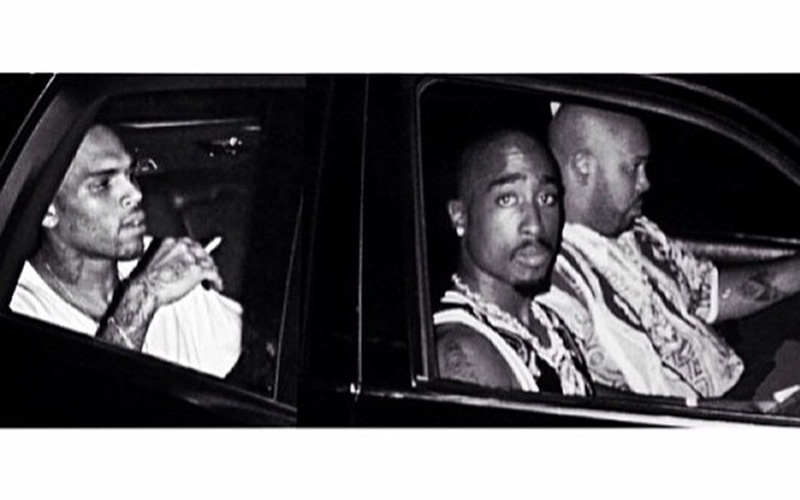 So last night Chris Brown posted a photoshopped pic of him in the car with Tupac and Suge Knight the night Pac was shot and killed in Las Vegas. And because he didn't explain himself … no one really understands why.
Check it out:
We're not quite sure what prompted Chris to share the photo with his Instagram followers because we all know Breezy was probably somewhere watching Rugrats while washing down a Lunchable with a fruit punch flavored Capri Sun the night Pac was shot, considering he was 7 years old when Tupac's fatal shooting took place.
Breezy could have easily not meant any harm by the photo … but for some reason this just doesn't sit right with us.
And Twitter seems to be just as confused:
Deadass I wake up to a picture of Chris Brown photoshopped into Tupac's last photo? Might get back in bed.

— Alexander Supertramp (@JustMuteMeNow) June 10, 2015
lmfaoooooooooooooooooooo RT @YourFavoriteZoe: Chris Brown trying to tell us he killed Tupac pic.twitter.com/LRhS0LsSSv

— k? (@_idkeither) June 10, 2015
So Chris Brown was involved in Tupac's murder?

— You Know Nigerians Don't Fail (@O_Tunj) June 10, 2015
soooo what I get from that photoshopped image chris brown post is that he feels like the media is targeting him the way they did tupac? ?byE

— MAMA AFRICA (@thatgirlsalina) June 10, 2015
https://twitter.com/DatAinoDamPuppy/status/608625145494654976
MIGHT be? RT @ComplexMusic: Chris Brown might be losing his mind ? http://t.co/koGBxqP7ok pic.twitter.com/KIYyy7l5WD

— Low (@LowKeyUHTN) June 10, 2015
Get your life, Chris Brown.
Be the first to receive breaking news alerts and more stories like this by subscribing to our mailing list.