Rae Sremmurd's performance at the Governor's Ball in New York City this past Friday (Jun. 5) didn't go so well.
While they were performing their song "Unlock the Swag," the older half of the duo Slim Jimmy (pictured above) fell off the stage and seriously injured his leg.
Jimmy tried to jump from the stage to a nearby speaker, but slipped and tumbled over before security guards rushed to his side.
He was carried backstage and minutes later got on the microphone to tell the crowd what happened.
"I got a big ass piece of glass in my leg, so if you got that video, put that shit on Instagram," he said to cheers from the audience. He also asked his lil bro Swae Lee to continue the performance.
Swae kept the show going, while Jimmy was put in an ambulance and taken to the hospital to seek medical treatment.
According to our friends over at The Smoking Section, fans tweeted that the stage was wet from rain (it is an outdoor concert, after-all) so this could easily explain how Jimmy's injury happened.
Peep the footage of the terrible fall below:
@RaeSremmurd @Jxmmi @iHipsterLee pic.twitter.com/7gVUgWyGxT

— T (@tjmasino) June 6, 2015
And here's an EXTREMELY GRAPHIC photo showing Slim Jimmy's leg wound: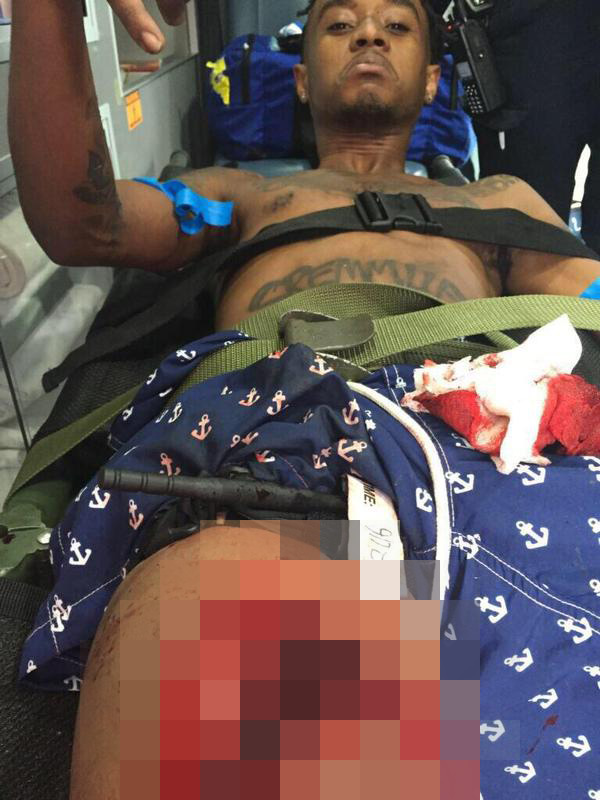 CLICK HERE FOR THE UNCENSORED VERSION (IF YOUR STOMACH CAN HANDLE IT)
Ouch… Get well soon Slim Jimmy!
Be the first to receive breaking news alerts and more stories like this by subscribing to our mailing list.