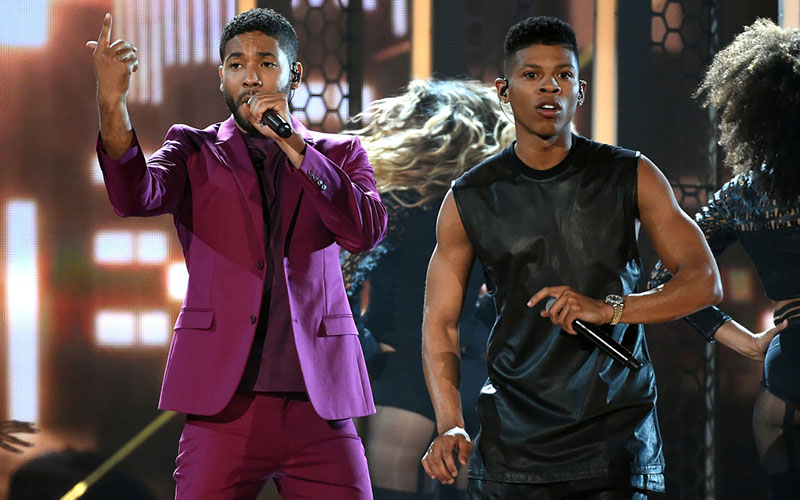 Because Fox's "Empire" is a show about music — not just any show about music, but a VERY POPULAR show about music — it's no surprise that the 2015 Billboard Music Awards commissioned a couple of cast members to grace the stage for a performance medley.
After a brief introduction from the "Empire" matriarch herself, Ms. Cookie Lyon (aka Taraji P. Henson, lol), Jamal (Jussie Smollett) performed "Conquerer" with Estelle, which was immediately followed by a joint performance of "You're So Beautiful" with Hakeem (Bryshere "Yazz" Gray).
Watch it here:
A great performance and all, but what about "Drip Drop?" Twitter asked the same question:
Am I the only one that wanted to see them perform "Drip Drop" ??? #BBMAs

— SnapChat: JEREOMIAHXXX (@jeremiahKOEking) May 18, 2015
https://twitter.com/cthagod/status/600108429194219520
The streets wanted drip drop.

— Rev Rell (@awkward_duck) May 18, 2015
#Empire had us like drip drop, drip drippity drop ? #BBMAs pic.twitter.com/t3Vbi5AIF2

— Vevo (@Vevo) May 18, 2015
Wait. Doesn't a medley consist of more than 2 songs? Dahng. Was ready from "Drip Drop," too. #BBMAs

— Vibe Magazine (@VibeMagazine) May 18, 2015
No "Drip Drop" performance? TRASH TRASH TRASH

— Desus Nice (@desusnice) May 18, 2015
Not to tell Billboard how to run an awards show but dat Empire performance was too short. Ya'll got Serayah there and ain't do Drip Drop? ?

— demon of color (@nikkiknowsitall) May 18, 2015
Are they really trying to call this an Empire medley without "Drip Drop" ????????? Billboard cancelled

— j (@lxvatoparadise) May 18, 2015
How you gonna have #Empire on the #BBMAs and NO "DRIP DROP"

— Z104 Nick (@nicodemuszoo) May 18, 2015
Ok this is cute but are ya'll going to sing Drip Drop? #BBMAs #Empire

— Eliel Cruz (@elielcruz) May 18, 2015
Be the first to receive breaking news alerts and more stories like this by subscribing to our mailing list.