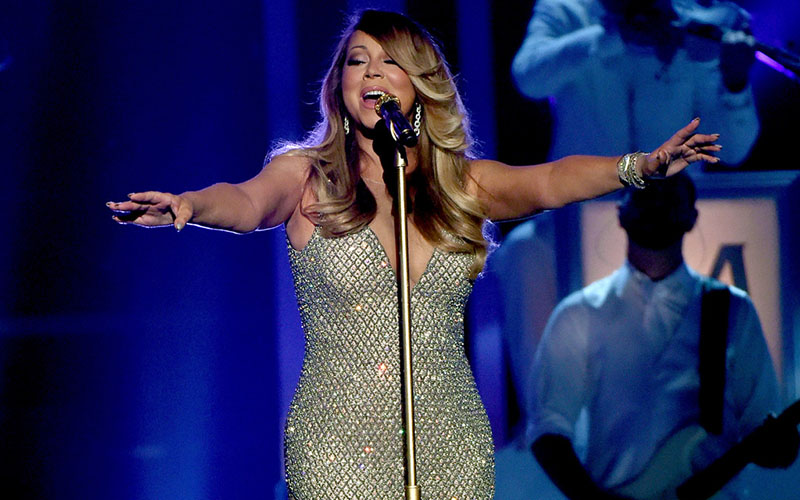 It's been 17 years since Mariah Carey has graced the Billboard Music Awards stage, host Ludacris announced at the beginning of the 2015 BBMAs.
So how did the "elusive chanteuse" do? Well, it all depends on who you ask.
Dressed in a sparkly dress, Mariah Carey — known for her powerhouse vocals — kicked off her performance with a snippet of her iconic 1990 single "Visions of Love" before segueing into her latest single "Infinity."
She didn't hit ALL of the notes like she was supposed to, but she did at least hit SOME of them.
Watch here:
If you ask some of her devoted fans, who Mimi affectionately calls "Lambs," she did great and sounded just like she did over two decades ago. But that's what they're supposed to say.
I'm happy, See favorite singer Mariah Carey live performance billboard music 2015 #BBMAs wow !!! so good 🐻 #Lambily

— Runner Paige (@CHANALZA) May 18, 2015
SLAY MARIAH @MariahCarey YOU DID SO GOOD AT THE BILLBOARD MUSIC AWARDS I AM SPEECHLESS https://t.co/wMQgvPUNiI — ?????? (@hiltonsus) May 18, 2015
So let's see what her non-fans on Twitter had to say about Mimi's first BBMA performance in almost two decades:
When you realize Mariah is singing live pic.twitter.com/VtyadBcg0A

— Jarett Wieselman (@JarettSays) May 18, 2015
remember when mariah was a good singer without having to force her vocals to do things they can't do as well anymore pic.twitter.com/dXsV26e0CC

— M (@mickeyatnight) May 18, 2015
mariah made the same sounds as planes pushing back from the gate before takeoff https://t.co/8EMvBSCROj

— Desus Nice (@desusnice) May 18, 2015
Mariah Carey just screamed like she was in the woods trying to find Bigfoot. I know a Squatch call when I hear one.

— Charlamagne Tha God (@cthagod) May 18, 2015
ariana grande stole mariah carey's talent

— zach (@theKarNashians) May 18, 2015
Me after Mariah's performance!! #BBMAs pic.twitter.com/NQVlhOPpOs

— OITNB | BEYOND (@OITNB_Beyond) May 18, 2015
me at Mariah trying to hit them high notes pic.twitter.com/2JPxWcXqfn

— anal girl (@benadryI) May 18, 2015
Nick Cannon took Mariah Carey's vocals with him as a part of the divorce hearing.

— Melech E. M. Thomas (@MelechT) May 18, 2015
To be totally fair, Mariah has been performing all month at Caesar's Palace in Las Vegas for a residency, and she had to cancel a show last Wednesday (May 13), just days before the Billboard Awards, due to bronchitis. She was even ordered by her music director not to speak during rehearsals to save her voice.
So it's very likely that she was still dealing with that Sunday night, which would explain why she didn't sound like her old self. But as they say, the show must go on, and it did.
Y'all leave Mariah alone. At least she's trying.
Be the first to receive breaking news alerts and more stories like this by subscribing to our mailing list.