Chris Brown found himself singing that Tamia song "There's A Stranger In My House" the other day when he returned home to find a deranged, naked woman lying in his bed.
Brown and his security team reportedly returned to his home in Agoura Hills, California at around 9:00 p.m. when they noticed a woman's clothes in the foyer and "I LOVE YOU" spray painted on the kitchen counter.
According to TMZ, Chris and his security team went on to find an unknown woman laying buck naked in his bed.
Chris — who had been in Vegas for the past few days — immediately called the cops and told police he didn't know the woman and she didn't have permission to be in his home.
The woman was later identified as 21-year-old Amira Ayeb, and police believe she had been at Brown's house for a while, as police found dishes in the sink and food that had been recently thrown away.
Ayeb also reportedly vandalized a couple of Brown's cars — a silver Rolls-Royce and a black Range Rover — by spray painting "MRS. BROWN" on them.
Ayeb was arrested and booked for felony vandalism and burglary and is being held on bail of $50,000.
Brown later took to Instagram and put the woman on blast, posting a picture of her in a white robe, and calling her a "crazy individual." He's since deleted the post, but here's a screenshot: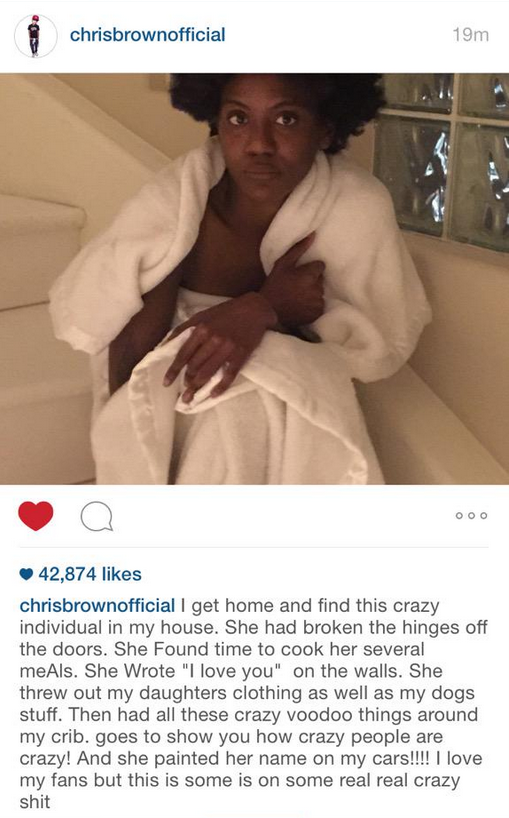 I get home and find this crazy individual in my house. She had broken the hinges off the doors. She Found time to cook her several meAls. She Wrote "I love you" on the walls. She threw out my daughters clothing as well as my dogs stuff. Then had all these crazy voodoo things around my crib. goes to show you how crazy people are crazy! And she painted her name on my cars!!!! I love my fans but this is some is on some real real crazy shit
Yikes! Real crazy shit indeed.
Be the first to receive breaking news alerts and more stories like this by subscribing to our mailing list.