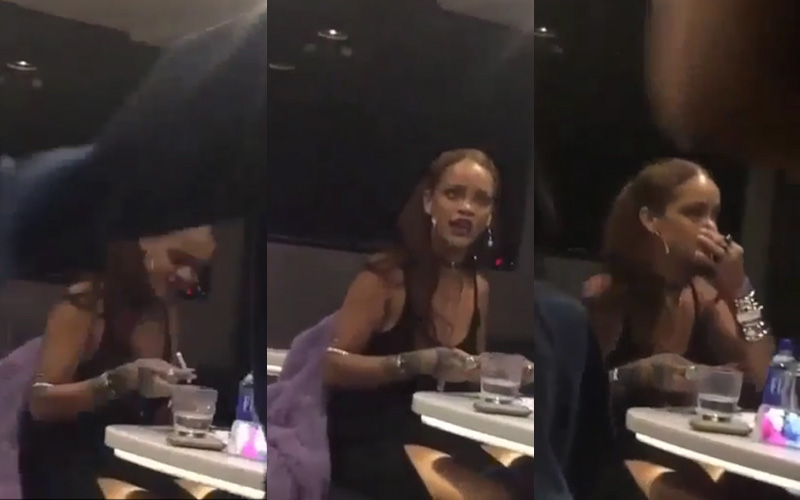 Rihanna is not here for you and your cocaine allegations.
A video purportedly showing Rihanna being in love with the coco went viral Tuesday (Apr 14), and Rihanna quickly responded to the allegations in the most Rihanna way possible.
The video, which was originally posted on Rihanna's Snapchat, shows the Pop star doing something with her hands and holding up a white substance. Is it a white straw she was using to snort some coke? Or is it a joint? Some say the former, others say the latter.
Judge for yourself below:
The fact that Rihanna is seen grabbing her nose (as if she just did a bump) didn't help the situation, but she's adamant that she was not doing coke (at that time). She was just smoking a joint.
In response to an Instagram user who posted the video and called her "the next Whitney Houston," Leonardo DiCaprio's rumored girlfriend wrote in an Instagram comment:
N*gga your lame ass got some f*cking nerve!!! Any fool could see that's a joint that I'm basing with cigarette! Who snorts tobacco??!! FOH witcho "never been to a rodeo so someone squeezing their nose means they're doing coke'" lookin ass!!
She also responded to the cocaine allegations on her own Instagram with this photo, which she captioned "#petty":
But wait… She's sipping through a straw from a coke can. Does that mean… ? Nevermind.
Be the first to receive breaking news alerts and more stories like this by subscribing to our mailing list.