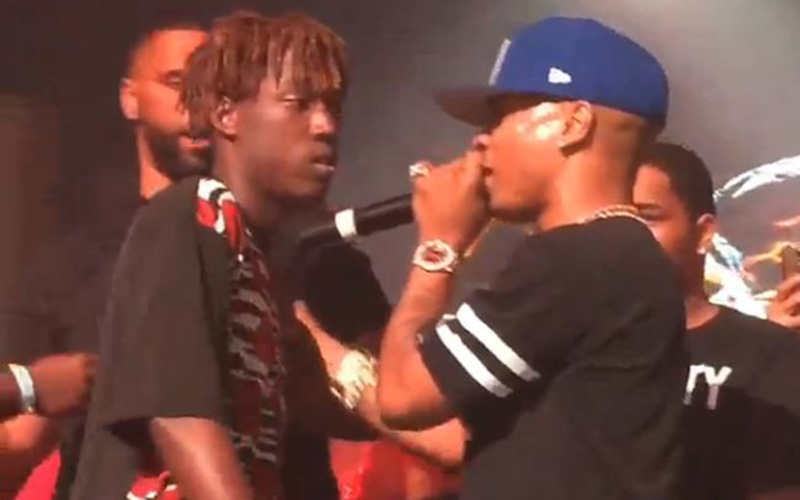 Rapper turned Instagram celebrity Plies was thrown off stage by a fan at a concert Friday night (Apr 3) in Tallahassee, FL.
Plies was in the middle of a performance when he did a good deed asking security to not kick the fan out, but allow him to get on stage instead.
Things were going fine until the fan started to get "too close" to Plies and invade his personal space.
Plies warned the fan to back up off him and can be heard in the footage below telling the guy, "We too close to be two n*ggas … We can't be this close now."
The fan, obviously embarrassed by Plies' comment, got angry, and out of nowhere body slammed the rapper right into the crowd.
Luckily for Plies, security stomped the hell out of the fan and gave him an azz whooping to remember.
Plies hopped back on stage after the incident and continued the show like a true professional, all while the fan was getting his face kicked in.
The fan was also thrown out of the building and several other fights broke out.
Peep the footage below:
Explain this @plies 😂😂😂😂😂 pic.twitter.com/YIbp6UBils

— IG: richbadd (@RichBADD) April 4, 2015
Man what happened @plies pt 2 pic.twitter.com/m5TzCIeXrp — IG: richbadd (@RichBADD) April 4, 2015
Dude got stomped after he slammed @plies pic.twitter.com/UVvW8zUu4b

— IG: richbadd (@RichBADD) April 4, 2015
And this is what the fan looked like afterward:
RT"@RichBADD: Man yall look he was bleeding bad af afterwards 😩 @plies pic.twitter.com/b80xhFr3uJ"" & he still throwing his set up 😫

— Miss America (@Sunny_Socialite) April 4, 2015
Always gotta rep that set. ALWAYS.
h/t: The Smoking Section
Be the first to receive breaking news alerts and more stories like this by subscribing to our mailing list.