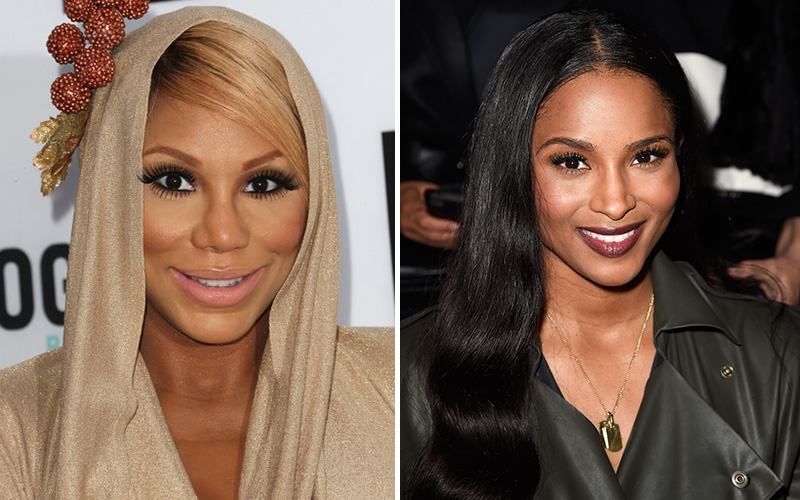 It wasn't too long ago when Tamar Braxton was shedding tears on her talk show "The Real" over being cyber bullied, crying over the fact that people (most notably K. Michelle and Chris Brown) were comparing her to a "muppet."
But now all of that sympathy she earned may be thrown out the window after she was caught allegedly throwing shade at Ciara on Instagram.
A fan shared a meme showing Ciara singing passionately to a song at BET's "Black Girls Rock" event, and the words on the image said, "I want to know what song required this much from Ciara." Tamar was caught liking the photo, and when fans got word of it, they called her a big ol' hypocrite, reminding her that she was just crying on TV not even a week ago about the very same thing happening to her.
"I agree with @kmichelle Tamar Braxton want to play the victim and now Tamar talking about Ciara. Tamar [needs] to have several [seats]. #GirlBye."
While Chris Brown didn't respond to Tamar's blatant request for a pity party, K. Michelle gave her two cents
After seeing all of the comments on IG and Twitter calling her out on her bullsh*t, Tamar made a comment that made it seem like the whole thing was just a big misunderstanding and asked for an apology from those who thought otherwise.
"I'm calling JESUS on you!! She sings fool…" she wrote in a now deleted comment. "A simple 'my bad' will do…" she shared in a note screenshot on IG.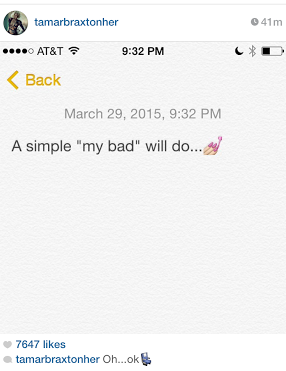 But some people didn't think an apology was warranted.
One user wrote, "I see Tamar deleted the first post. Always throwing rocks and hiding her hand. Just make music and stop the drama!"
Another wrote, "Why did she take the post down if she wasn't being insensitive??? She was crying her eyes out when they put that pic up of her and that Muppet…I love Tamar but I just feel she has changed."
Ciara has yet to respond, but it's likely she won't, considering she's got a new album to promote and a new tour to rehearse for.
h/t: Bossip
Be the first to receive breaking news alerts and more stories like this by subscribing to our mailing list.