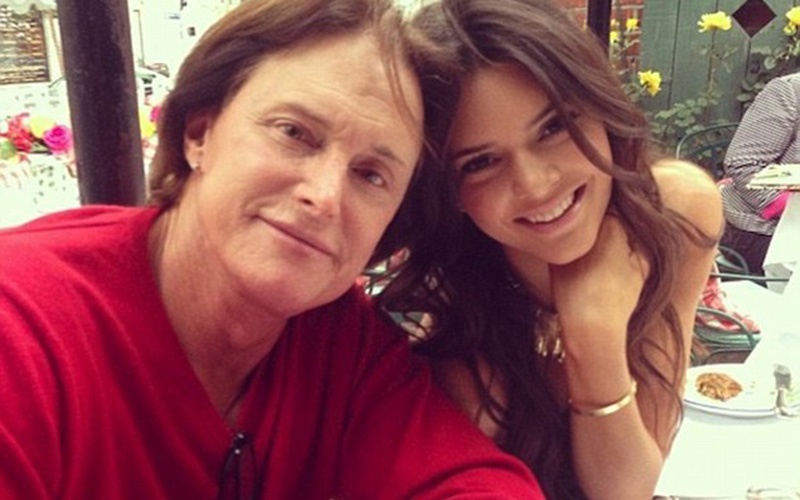 Kendall Jenner apparently has nothing but "unconditional" love for her father Bruce Jenner, despite the fact that he now wants to become her second mother.
While most of Bruce Jenner's offspring haven't said much of anything about his decision to transition from male to female, Kendall — the former Olympic athlete's oldest daughter with Kris Jenner (he has an older daughter named Casey from his first marriage) — broke her silence backstage during Comedy Central's roast of Justin Bieber over the weekend.
This is what she told Us Weekly, according to Us Weekly:
"I love my dad. He's always been there for me and my sisters. He's a wonderful man. And just because he's changing shoes now, so to speak, doesn't make him less wonderful. I will always love my dad, whether he's a man or a woman."
Several reports have suggested that Bruce's six children and four stepchildren have supported him "unconditionally" throughout his transition, but Kendall is apparently the first one to address the rumors head on.
Bruce reportedly revealed the "big" news about his transformation to his youngest daughters Kendall and Kylie Jenner, as well as his step-daughters Kourtney, Kim and Khloe Kardashian, in the upcoming 13th episode of the latest season of "Keeping Up with the Kardashians."
Sources said the 64-year-old Olympic champ was "a little emotional" during the conversation, which took place on January 19th, the same day this photo was posted on Instagram:
"It wasn't a jaw-dropping conversation," an insider told Us Weekly. "He literally started the conversation with, 'Hey guys, I'm becoming a woman. But I'm sure you probably already figured that out.'"
Bruce also reportedly asked his daughters to stop calling him Bruce and use a name he's chosen, and he also told them if anyone asks about his transition, they're supposed to tell them he's "in a very good and happy place."
Bruce and Kris Jenner finalized their divorce last December, but he still appears in the 10th season of "KUWTK," which premiered Sunday (Mar 15) on E!
In addition to a docuseries for E!, Bruce will also record a sit-down interview with ABC's Diane Sawyer, which is set to air just before summer.
UPDATE: Kendall Jenner tweeted that she was misquoted in her interview with Us Weekly.
how is it legal for someone to "quote" someone and publish it if in fact you never said what was quoted.

— Kendall Jenner (@KendallJenner) March 18, 2015
Us Weekly has since removed the article from their website and issued this retraction statement:
On Wednesday, March 18, Us Weekly published on UsMagazine.com an interview with model and reality star Kendall Jenner entitled "Kendall Jenner Breaks Silence on Bruce Jenner's Transition: 'I Will Always Love My Dad.'" The interview was allegedly conducted by an independent freelance journalist at the Saturday, March 14, taping of Comedy Central's roast of Justin Bieber in Los Angeles.

When Ms. Jenner denied, via Twitter, that the interview took place, Us Weekly immediately reached out to the freelance reporter. He stood by the interview, and continues to maintain that the quotes are accurate. However, after attempting to reconfirm his account, editors of Us have concerns about the veracity of this interview and the circumstances under which it was obtained.

We would like to retract the story entirely and have removed it from our website. We sincerely apologize to Ms. Jenner and her family.
Be the first to receive breaking news alerts and more stories like this by subscribing to our mailing list.