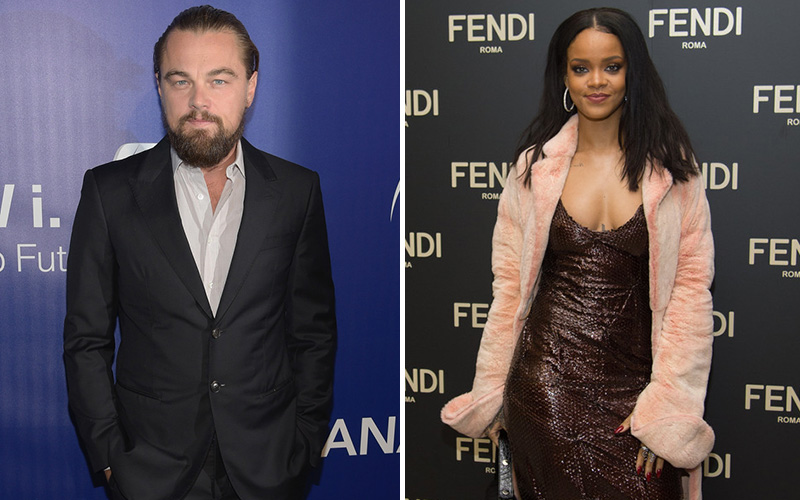 Rihanna is stuck on Leonardo DiCaprio like white on rice.
The 27-year-old pop star and the 40-year-old "The Wolf of Wall Street" actor have been rumored to be hooking up for some time now.
Sources tell TMZ that RiRi and Leo were recently spotted at her birthday party being intimate and affectionate with each other. But it's clear that Rihanna is more into Leo than he is in her.
Sources say Rihanna followed him everywhere at the party and appeared to be "clingy." She wouldn't let the man out of her sight! (Ed note: Damn girl, he got you like that?)
We got pics of RiRi and Leo getting cozy recently at her birthday party — which he helped organize — and sources at the bash tell us one thing was clear … Rihanna's the clingy one.

We're told Leo is affectionate enough — they engaged in plenty of PDA — but he could barely get a moment to himself. As one source put it, "she's the baddest bitch in the party, but she's following him everywhere."

We're told they've been hooking up for about 3 months, but it's still not exclusive — more like they're each other's first choice. Not that anyone's crying for either of them.
In a recent interview with Hot 97, Chris Brown spoke on the Leo-Rihanna dating rumors and it sounds like he's OK with it because he's clearly moved on.
"I'm gonna have to give her that, because you know what? Ain't nowhere else you coulda went though. High five. You can only go up, and that's the upper, upper echelon… I'm not even a hater. I'll give you a slap on the back, booty, everything, 'Hey, do your thing. Good game.'

"In that situation, I just tip my hat. I'm not a hater. I'm not envious, I don't feel jealous. Do your thing. I can't have it all, brotha."
Be the first to receive breaking news alerts and more stories like this by subscribing to our mailing list.