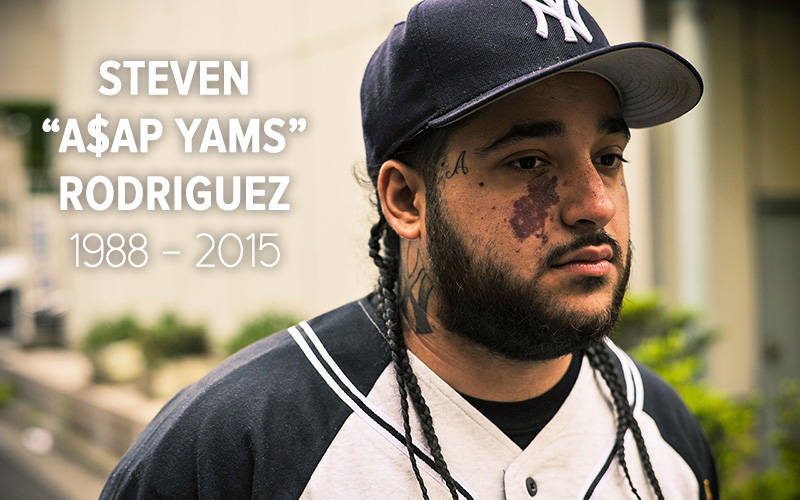 Hip Hop fans are in mourning over the death of A$AP Yams, one of the founding members of the rap collective A$AP Mob.
Yams (real name: Steven Rodriguez), known for helping pave the way for artists like A$AP Rocky and A$AP Ferg, passed away Sunday (Jan 18) at the age of 26.
"My role is everything that comes out from Rocky or anything we make I put stamp of approval on it. That's from a musical standpoint to a business standpoint. I make sure everything is right," Yams said in an interview with Vibe in 2012.
There was no official immediate word on the cause of Yams' death.
RCA Records, A$AP Mob's record company, said in a statement that they were "shocked and saddened" to hear about the sad news.
"As one of the creative forces behind A$AP Worldwide, Yams' vision, humor and dedication to the members of A$AP Mob will always be remembered," the statement read, according to Rolling Stone.
As news of Yams death hit social media, the Hip Hop community took to Twitter and Instagram to express their condolences. Check out the tweets & IG posts below:
Rest in peace Yams. A$AP is family.

— Drizzy (@Drake) January 18, 2015
https://twitter.com/AZEALIABANKS/status/556822039009320960
R.i.P Bro see you in paradise #asapferg #asapmob #cozyboy #yamborgini #yamz http://t.co/vj9UlYfUDO

— HOOD POPE (@ASAPferg) January 18, 2015
R.I.P Yams. Fuck man. Such a good dude

— GEMINI (@macklemore) January 18, 2015
rest in peace ASAP YAMS. black out boy for real.

— The Weeknd (@theweeknd) January 18, 2015