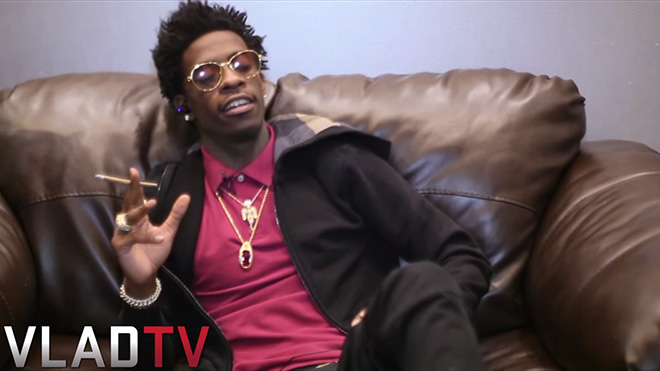 Rich Homie Quan is sick and tired of all the gay rumors.
In a recent interview with Vlad TV, the "Blah Blah Blah" rapper spoke passionately about being called "gay" because of the clothes he wears.
According to Rich Homie, he's never been gay and sees all of the comments and negative things people have to say about him on social media.
"I ain't never been no fuck-nigga. Go head on with that bullshit. I'm from Atlanta. I'm from the slum bro. I come from that. And I stand for everything I got 'cause I ain't falling for anything. Don't think he gon' sneak me, it's not over with.

"I offered to swing on a nigga in a crowd 'cause he called me gay. I ain't with none of that gay shit bro. Just 'cause I wear tight pants don't mean I'm gay, bro. I will fuck your ho and then beat your ass and send a video of me fucking your ho, bro. Don't try me like that, bro.

"Nah, for real Vlad. I see every comment that come to me bro. That shit be funny to me. I'm here with you, I'm giving it to you how it is, bro. These niggas know I ain't gay. These niggas know I'm fucking they ho. Ain't nothing changed but my address, bro 'cause they put me out my old spot."
Quan — who looks high as a kite in this interview — also revealed what led him and another man to get into a brawl at the Adrien Broner boxing match in Cincinnati.
Watch the interview clip above!
Be the first to receive breaking news alerts and more stories like this by subscribing to our mailing list.