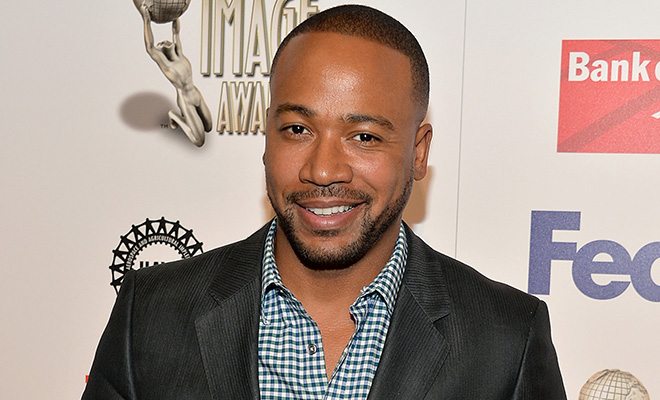 After losing his job playing Harrison on the hit ABC series "Scandal," Columbus Short seems to be in a state of contemplation, and now he's coming clean about what was really going on behind the scenes.
In a revealing interview with Access Hollywood, the 32-year-old actor — who was fired from the show after being arrested and charged with battery in two separate instances (one time against his now estranged wife, and the other in a bar fight) — admits he was doing a lot of cocaine and drinking.
"I'll be candid. I was struggling with drugs," Columbus – who played Harrison Wright on the ABC drama – told Billy Bush and Kit Hoover. "I had a lot on my plate, and you know, I was using unhealthy ways to kind of self-medicate and deal with a lot of heavy duty stuff in my life."

"What kind of drugs were you doing?" Billy asked.

"The real drugs – I did cocaine," Columbus answered. "I was doing cocaine and drinking a lot, and trying to balance a 16-hour work schedule a day, and a family, and, I just lost myself back then."
Short said that his boss Shonda Rimes, as well as his fellow co-stars, were well aware of his struggles and they simply wanted to see him get the help he needed.
"She did [know]," Columbus said, when asked if Shonda was aware of his drug issues. "And if we're going to be fully transparent, they protected me and they held me down. And that was one of the real reasons – they just wanted me to get my stuff together.

"Sometimes the bottom has to be dropped out for you to really get it," he continued. "So I moved to Atlanta. I've been living there for the last five months, five-and-a-half months, and it's just been great. It's been life changing."
Columbus refused to divulge details about the motivations behind why he was abusing drugs, but he did mention the death of his friend Lee Thompson Young as something that really affected him.
"It was numbing stuff, it was just numbing – a lot of things I really don't want to talk about," he said. "I was going through a lot, going through a lot in my marriage, I had a lot of loss, tragic loss, so it's tough."

"Last year, one of my best friends died, he killed himself, Lee Thompson Young, and that kind of started a spiral," he continued. "I found out when I was on set, and it really just, it took my legs out from under me."
Since getting fired from "Scandal," Columbus Short has moved to Atlanta and has been working on an album, and now that he's on the road to recovery he would welcome the opportunity to return to "Scandal," calling the show his "family."
"I had to move, and my therapy really was my album. Working on my album changed my life," he said. "Music changes things, and that is a fact. And, you know, writing it out. And I have a lot of crappy songs that I wrote, that are just like me ranting, and then I have great [ones], and I put together a great EP with the team, [and] that's how I got through this."

"I'm really ready to get back to work," he said. "As far as Shonda's shows, I would love nothing more to go back to 'Scandal.' It's my family."
Prior to Short's Access Hollywood interview, he also took to Instagram and apologized for letting down his "costarz, gladiators and supporters." He wrote in the caption: "If I never return to Scandal that's okay. Because I got you guys!!!!"
Be the first to receive breaking news alerts and more stories like this by subscribing to our mailing list.