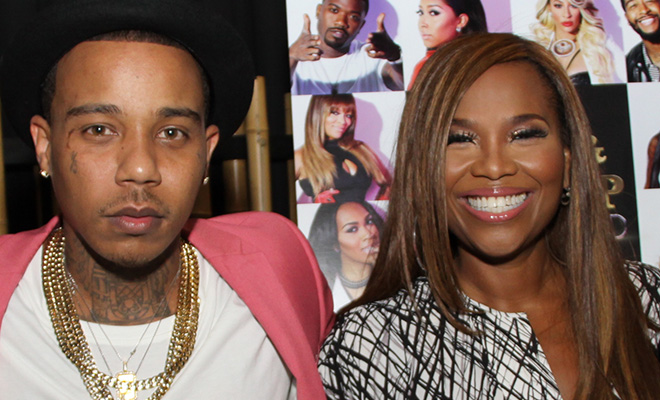 Last month, Yung Berg was fired from "Love & Hip Hop Hollywood" after he was arrested for allegedly beating his girlfriend Masika Tucker, who also stars on the show.
According to TMZ, Berg (real name: Christian Ward) was arrested at the Gershwin Hotel in New York City last month and charged with "obstruction of breathing" after he attacked Masika by grabbing her by the throat, dragged her across the hotel room they were staying in and punched her in the face, and it was all (allegedly) because Berg got pissed over his credit card being declined earlier that night.
"Based on the severity of the allegations against Yung Berg, VH1 is terminating its relationship with him in connection with Love & Hip Hop Hollywood, effective immediately," the network announced in a statement. "Yung Berg was arrested on November 5th and charged with criminal obstruction of breathing in connection with an assault on fellow cast member Masika Tucker. The arrest took place in a New York hotel several hours after the taping of the reunion special for 'Love & Hip Hop Hollywood' had wrapped."
The network and the show's production team were applauded for letting the troubled rapper go, but it seems that showrunner/executive producer Mona Scott-Young was sad over Berg being axed. In an interview with VladTV, Mona spoke on Berg's departure, saying the head honchos at VH1 (her bosses) were the ones who ultimately decided Berg's fate, not her.
"Listen, like I said, I know that emotions get the best of them. I was not there so I can't speak to exactly what led to that. I know that he does feel badly that it did happen," Mona said. "Unfortunately, the network decided that was an absolute position that they had to take. Berg is such a talented artist and I wish him all the best."
She added, "I hope that the time that he spent on the franchise, he's managed to leverage it and that it serves him. He was great. I will miss him … I loved his personality. I loved his sense of humor. I think he was a great addition to the show."
h/t: Madame Noire via VladTV
Be the first to receive breaking news alerts and more stories like this by subscribing to our mailing list.