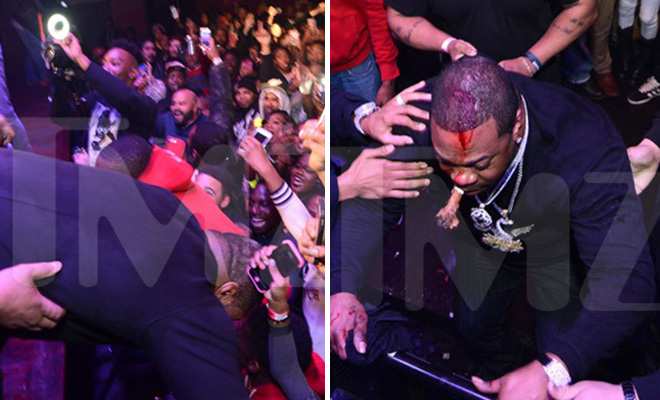 Somebody please tell Busta Rhymes it's time for him to sit his old azz down! Don't get us wrong, we love us some Busta, but at 42 years old he may seriously need to start considering taking a break from the club scene.
Early Friday morning, Busta made an appearance at O.T. Genasis' show (the guy famous right now for that "I'm in Love with the CoCo" song) at New York's Webster Hall.
Either Busta was super wasted or may have had a little bit too much "CoCo" himself, because he ended up falling off the stage into the crowd right in the middle of O.T.'s performance!
After falling off stage, Busta suffered from a bloody head injury and had to be treated backstage.
Busta's injury from the fall wasn't life-threatening and later he tweeted about the incident, assuring fans he was okay:
WE ALWAYS WILL BE ON 10!! WE JUST TOOK 1 STEP 2 FAR OFF THE STAGE AND THAT WAS IT!! SHIT HAPPENS BUT I LOVE IT CAUSE WE LIVE IT!!

— Busta Rhymes (@BustaRhymes) November 28, 2014
That's right Busta … "Shit happens" to the best of us!
Peep the footage below:
Be the first to receive breaking news alerts and more stories like this by subscribing to our mailing list.