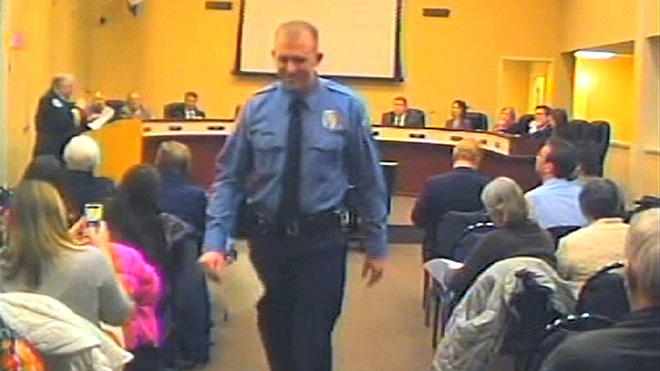 After listening to 70 hours of testimony from 60 witnesses over the course of 25 days and deliberating for two days, a St. Louis grand jury has decided against indicting Darren Wilson, the white police officer who fatally shot unarmed African American teenager Michael Brown in Ferguson, Missouri back in August.
This means that Wilson will not go on trial. He now gets to walk away scot-free and will face no charges in Brown's death. Once again, justice has NOT been served.
From the NY Times:
The decision by the grand jury of nine whites and three blacks was announced Monday night by the St. Louis County prosecutor, Robert P. McCulloch, at a news conference packed with reporters from around the world. The killing, on a residential street in Ferguson, set off weeks of civil unrest — and a national debate — fueled by protesters' outrage over what they called a pattern of police brutality against young black men. Mr. McCulloch said that Officer Wilson faced charges ranging from first-degree murder to involuntary manslaughter.

Word of the decision set off a new wave of anger among hundreds who gathered outside the Ferguson Police Department. Police officers in riot gear stood in a line as demonstrators chanted and threw signs and other objects toward them as the news spread. "The system failed us again," one woman said. In downtown Ferguson, the sound of breaking glass could be heard as crowds ran through the streets.

Mr. Brown's family issued a statement expressing sadness, but calling for peaceful protest and a campaign to require body cameras on police officers nationwide. "We are profoundly disappointed that the killer of our child will not face the consequence of his actions," the statement said. "While we understand that many others share our pain, we ask that you channel your frustration in ways that will make a positive change. We need to work together to fix the system that allowed this to happen."

But outside the police station, Lesley McSpadden, Mr. Brown's mother, voiced frustration with the decision. "They wrong!" she yelled, pointing toward the police officers standing outside of the station. "Y'all know y'all wrong!"

At the White House, President Obama appealed for peaceful protest and "care and restraint" from law enforcement following the grand jury's decision not to indict Officer Wilson, even as he said the situation speaks to broader racial challenges in America.

"We have made enormous progress in race relations over the course of the past several decades," Mr. Obama said in brief remarks in the briefing room, where he made an unusual late-night appearance to respond to the decision. "But what is also true is that there are still problems, and communities of color aren't just making these problems up."
Be the first to receive breaking news alerts and more stories like this by subscribing to our mailing list.