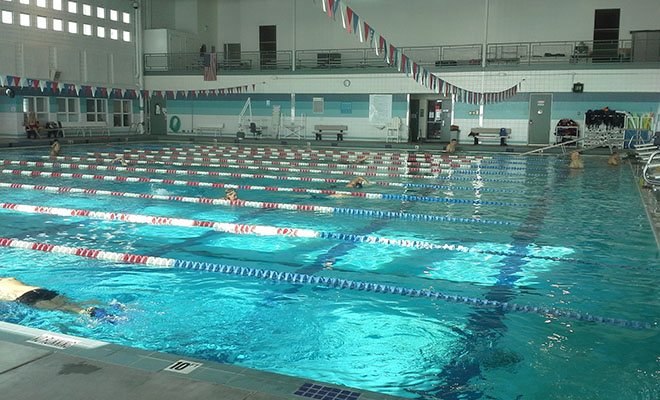 A physical education teacher from California is facing charges of corporal injury to a child after video footage surfaced showing him trying to force a 14-year-old female student into the pool during a class. The incident reportedly happened back in August and was recorded on video by another student.
In the video, the girl can be seen trying to get away, screaming and being helped by other students in an effort to avoid being forcfully dragged into the pool. She repeats several times in the video, "My top is falling down!" and you can also see some students trying to splash her with water.
Sandra Garcia (the girl in the video), who is a Freshman at Edison High School, said she didn't want to get in the pool because of a hairdo she was trying to save for an event later that night. Garcia said the teacher — Danny Peterson, who has worked for the school district for 10 years — seemed to be obsessed with getting her wet.
"I wasn't going all the way under water to get my hair wet,and he wanted my hair wet. He was doing hand motions saying he'd splash me. He wanted kids to jump in where I was at to get me wet," the 14-year-old said.
Per school district policy, Peterson had the option to punish Garcia academically, but not physically.
Gilbert Somera, the attorney representing the girl and her family, told USA Today: "Regardless of her participation (in the class) it should disgust you how this man put his hands on a 14-year-old girl. She said multiple times, 'My top is falling down.'"
Peterson had been placed on paid leave, but he was quickly assigned to another school in the district, and that's when a lawsuit was filed.
"As time goes by, I find out he's working at an elementary school where girls are more vulnerable and younger and he's working. I feel like it's being shoved under the carpet, like they don't think it was a big deal what happened to my daughter," the girl's mother Susie Garcia said.
Now that the video footage has surfaced and after news reporters notified the district that a misdemeanor case had been filed against Peterson, the 46-year-old teacher has been placed on paid leave a second time.
Be the first to receive breaking news alerts and more stories like this by subscribing to our mailing list.