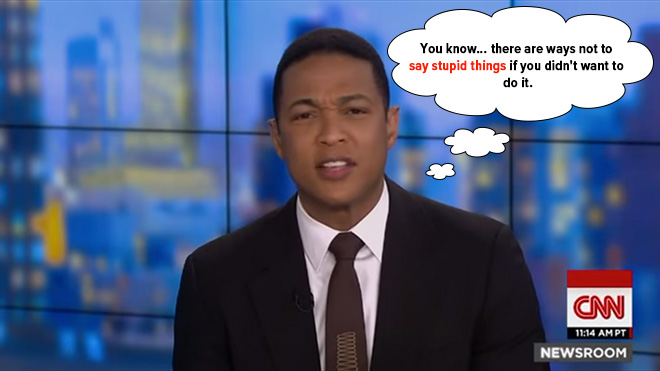 CNN host Don Lemon is apologizing for comments he made in an interview with an alleged rape victim of Bill Cosby.
During an interview on Tuesday (Nov 18) with publicist/journalist Joan Tarshis — one of Cosby's many rape accusers — Lemon pressed her on why she didn't use her teeth to avoid performing oral sex on the comedian, which sparked outrage on social media, especially Twitter.
He said: "You know, there are ways not to perform oral sex if you didn't want to do it."

Ms Tarshis said: "I was kind of stoned at the time and, quite honestly, that didn't even enter my mind. Now I wish it would have."

Lemon said: "Meaning the using of the teeth as a weapon, right?" – to which Ms Tarshis responded "yes."

Not content that he had pushed the point home, Lemon continued crudely: "Biting."

A very uncomfortable Ms Tarshis replied "ouch" before Lemon finished with: "Yes. I had to ask."
HE "HAD" TO ASK, FOLKS. And now he's apologizing for the rude questions after feeling the heat from those who were outraged by his comments. Someone even started a "#DonLemonReporting" Twitter trend that instantly went viral. (See tweets below)
As a result of the backlash, Lemon was forced to apologize on air Wednesday, saying that he, as a victim of sexual assault himself, never intended to offend Tarshis or anyone else during the interview.
"As a victim myself I would never want to suggest that any victim could have prevented a rape," he said. "If my question struck anyone as insensitive, I'm sorry as that was not my intention."
https://twitter.com/richrdhernandez/status/535060749303836672
https://twitter.com/NotAllBhas/status/535134982248083456
Did you think to tell the mugger you didn't want to be robbed and you needed to keep your money? #DonLemonReporting

— Very Legal, Very Cool Jayelle ????????? (@GreenEyedLilo) November 19, 2014
If Africans didn't want to be stolen and sold into slavery, they shouldn't have been in Africa that day. #DonLemonReporting

— Mr. Brothers ?? (@LBrothersMedia) November 19, 2014
When Germany invaded Poland, what was Poland wearing? Was it drunk? Was it begging for it? #DonLemonReporting

— JRehling (@JRehling) November 19, 2014
When life hands you lemons, Don Lemon blames you for taking them. #DonLemonReporting

— Paul Myers (@pulmyears) November 19, 2014
9/11 would never have happened if those towers had just gotten out of the way of the planes. #DonLemonReporting

— The Hangriest Librarian (@HalpernAlex) November 19, 2014
https://twitter.com/dvnix/status/534943667153555456
https://twitter.com/thecajunboy/status/535061462645891072
If life hands you Don Lemon, change the channel #DonLemonReporting

— Harold Itzkowitz (@HaroldItz) November 20, 2014
"I'm #DonLemonReporting live from a rape prevention rally" pic.twitter.com/XOdQNe5Js5

— missy foreman-greenwald (@femmeminem) November 19, 2014
https://twitter.com/elonjames/status/534943524664274944
Let's hear Don Lemon out. He might be speaking from experience after taking up our repeated recommendations that he eat a bowl of dicks.

— Beyonce has an uncle named Larry Beyince. Bruh…. (@DragonflyJonez) November 19, 2014
Be the first to receive breaking news alerts and more stories like this by subscribing to our mailing list.