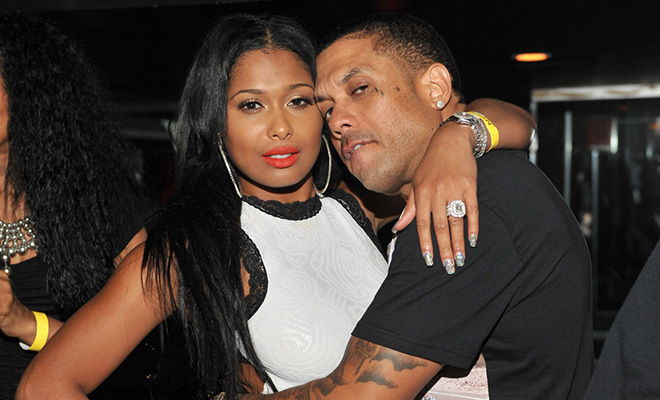 After losing his mother to cancer, getting shot by his nephew at her funeral, getting engaged to a gold digging THOT who smashed the homie, and losing a nice chunk of his income and relevancy by getting fired from VH1's "Love & Hip Hop Atlanta," it's safe to say Benzino has had a very rough year.
Benzino (real name: Raymond Scott) and his "fianceé" Althea Eaton were given their pink slips last month without any explanation, and Benzino believes producers are blaming them for the big fight with Joseline and Stevie J during the Season 3 reunion special.
Benzino and Althea believe Joseline and Stevie J instigated the whole thing by talking trash on social media the day before. On top of that, Althea has also filed a lawsuit against Joseline for attacking her.
Filming for LHHATL's fourth season is now underway, and for the first time, Benzino won't be a part of it, and he has taken to his Twitter to respond.
Zino retweeted a post from a blogger announcing that the cast had started taping (notice how he added an emoji of hands clapping, lol):
RT @_Blogionista: #LHHATL Is Currently Filming Their New Season. This Season Will Not Have Benzino & Althea. I… http://t.co/sadS7cUjLd >?

— Only 1 Benzino (@IAMBENZINO) November 11, 2014
Fans responded to the tweet with their mixed thoughts on Benzino not returning next season, with some tweeting that they were going to boycott the series now that he's not a part of it.
"Well I won't be watching bc I'm not for watching crackheads and drama on the next season," wrote one fan. "There's no reason to watch it now if you guys aren't going to be on it," tweeted another.
Others said they'll "miss" Benzino and Althea, suggesting that they'll watch anyway, but their presence on the screen will certainly be missed.
"Gonna miss u 2 on the show. It was wrong," tweeted one fan, while another tweeted, "It was fucked up, you and @Althea_Heart should still be on."
Meanwhile, Althea has hinted at a future reality show called "Married to Hip Hop."
In response to the tweets about her and Benzino being kicked off the show, she tweeted to one fan "#MarriedtoHiphop #comingsoon" and "boo we onto the next" to another, possibly clueing us in about a new show.
Would you watch a show centered around Benzino and Althea? But wait. Before you answer that question, watch this:
Be the first to receive breaking news alerts and more stories like this by subscribing to our mailing list.