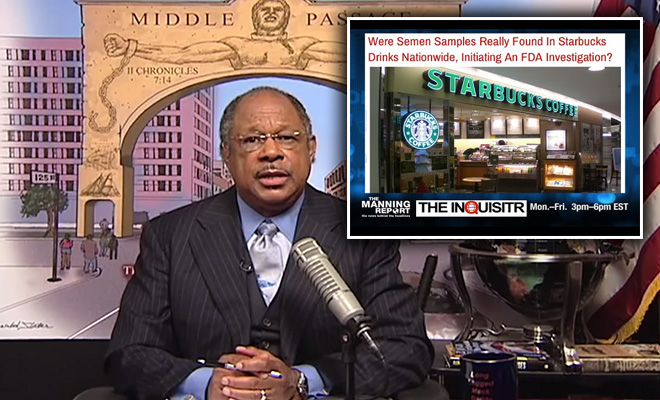 Did you know that Starbucks is putting the semen of "sodomites" in your coffee to make it taste better?!?
They're really not, but a New York City accused the popular coffeehouse chain of doing just that, and he wants to warn you about it.
Pastor James David Manning, the head pastor at the ATLAH (All the Land Anointed Holy) Worldwide Missionary Church in Harlem, claimed last week that Starbucks was "ground zero" for Ebola (because of all of the "sodomites" who go there, obviously) and he essentially blamed gays for bringing the virus into New York City.
Pastor Manning's outrageous remarks sparked protests from gay-rights activists, who protested outside the ATLAH Church by handing out free coffee from Starbucks and chanting the words "Stop the hate."
Now, Manning, who also believes that Vladimir Putin will out President Obama as a "homo" in the next 100 days (his deadline is next Thursday), is saying that Starbucks is putting "sodomite semen" in your coffee to spice up the flavor and to make you "think you're having a good time."
Evidently, not just any old regular semen would do. It would need to be semen derived from real sodomites in order for the taste to be perfect and the time to be good.
Manning made the accusations in a misguided 7-minute video he posted to YouTube, in which he cites this article from the Inquisitr: "Were Semen Samples Really Found In Starbucks Drinks Nationwide, Initiating an FDA Investigation?"
This is what he had to say about the gay-rights activists (or "sodomites," in his words) who were protesting outside his church and the Starbucks coffee spiked with semen they were handing out to people:
"They had a big bucket of Starbucks coffee. They said that this church is a hate church, and that I'm a hate preacher… Starbucks is a place where these types frequent and a lot of body fluids are exchanged there. But the thing that I was not aware of is that there has been information that has been released… what Starbucks was doing, is they were taking specimens of male semen, and they were putting it in the blends of their lattes. Now, this is the absolute truth."
MALE semen, mind you. Not FEMALE semen, because that probably wouldn't taste as good. Manning added, "Semen flavors up the coffee, and makes you thinks you're having a good time."
WHAT?!? WHAT?!? WHAT?!? WHAT IN THE ACTUAL F**K IS THIS GUY TALKING ABOUT?!?
Considering the fact this guy made an entire video about this, you would think he would have at least read the article in its entirety. Because if he did, he would have come across this line:
This will surely hurt Starbucks' reputation, right? Fortunately for them, the derogatory article is fake.
The article comes from a satire/parody news site called "Huzlers," which, like The Onion (but not nearly as good), publishes faux news stories for comedic purposes.
Some of their recent headlines are: "Terrio Hospitalized After Fainting From Eating Too Much Halloween Candy," "Bill Gates Offers Young Thug $9 Million to Stop Making Music," and "Rapper Gucci Mane Mysteriously Diagnosed with Ebola in Prison." They also have another (obviously fake) article up about Starbucks, this time getting caught using breast milk in their coffees, lattes and frappuccinos.
But back to this whole "sodomite semen being put in your Starbucks" thing. Just in case you didn't catch it earlier, STARBUCKS IS NOT PUTTING "SODOMITE SEMEN" (OR ANY SEMEN, FOR THAT MATTER) IN YOUR COFFEE.
Pastor James David Manning — who appears to be a closeted, bigoted, raging lunatic — might put sodomite semen in his own coffee to make it "flavorful" and to ensure that he's having a "good time," but Starbucks wouldn't (and COULDN'T) do anything of the sort.
THIS is the absolute truth.
h/t: Daily Dot
Be the first to receive breaking news alerts and more stories like this by subscribing to our mailing list.