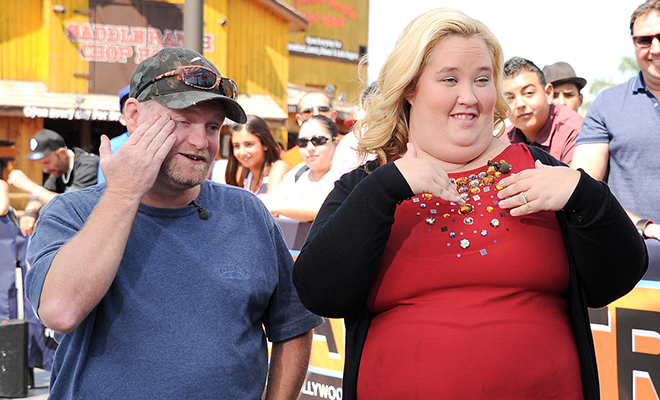 Mama June Shannon is not only a terrible parent, but she was also a horrible partner to Sugar Bear.
According to TMZ, Mama June never got over her old sex offender ex-boyfriend, even though he molested her oldest daughter Anna over 10 years ago when she was just 8 years old.
In fact, Mama June's feelings for her convicted child molester ex-boyfriend Mark McDaniel, who was jailed for 10 years for sex crimes, she started seeing him again recently, TMZ says, while she was still with Honey Boo Boo's father Mike "Sugar Bear" Thompson.
Multiple family sources tell TMZ … June kept a box of photos of her and McDaniel in the house … something Sugar Bear knew about and protested, to no avail. She would NOT get rid of them.

We're told McDaniel — who molested June's then 8-year-old daughter Anna — was the subject of frequent arguments between June and Sugar Bear. He felt she was still emotionally in a relationship with McDaniel … even though he had been locked up for years.

Our sources say June was seeing McDaniel while she was still with Sugar Bear — he got out of prison in March. The family now believes it was actually June who was cheating, not Sugar Bear, and she used the online dating story to get out of a relationship she had already rejected.
Mama June and Sugar Bear released a joint statement last month, announcing that they were breaking up supposedly because Sugar Bear was cheating on her online with other women on websites like PlentyofFish.com.
Now we know the truth, and we're certain Sugar Bear is not OK with the fact that his daughter was hanging around a convicted child molester on September 9th.
Be the first to receive breaking news alerts and more stories like this by subscribing to our mailing list.