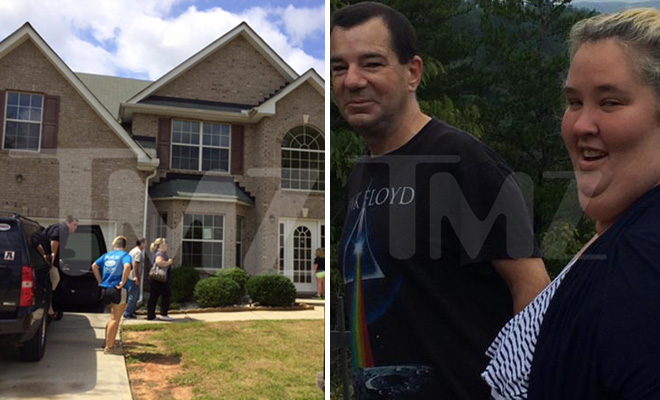 Wow… Mama June is a BIG FAT LIAR!!!
Just two days after she SWORE she hadn't seen convicted child molester Mark McDaniel since he was released from prison last March after serving a 10-year sentence for molesting her daughter Anna 12 years ago when she was 8 comes news that Mama June Shannon was spotted "house hunting" in Hampton, Georgia last month, and TMZ has the pictures to prove it.
WHAT. IN. THE. FUCK.
TMZ got photos of June and McDaniel house hunting in Hampton, GA last month. As they stroll through the baronial property they show clear affection appearing to be hand in hand in one photo.

TLC certainly didn't believe her … the network cancelled the show 24 hours after TMZ posted a pic of the 2 of them recently in a hotel room during a small party.
Mama June's 14-year-old daughter Lauryn "Pumpkin" Shannon told Radar Online that her mom wasn't seeing McDaniel and TMZ's photo of them together was "photoshopped" … but there's absolutely no denying these "house hunting" photos!
WHO HOUSE HUNTS WITH A CHILD MOLESTER? And not just ANY child molester. A CONVICTED child molester. The very same convicted child molester who just got out of prison for forcing your own daughter to perform oral sex on him when she was an 8-year-old.
I'm literally sick to my stomach right now. I just… can't.
Be the first to receive breaking news alerts and more stories like this by subscribing to our mailing list.