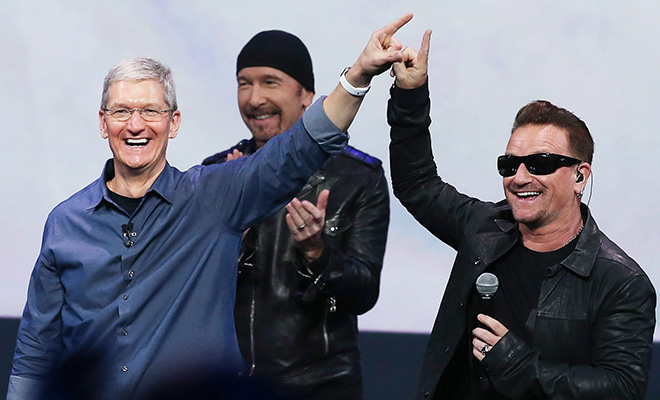 If you're a fan of U2 and you just so happen to be one of 500 million iTunes users worldwide, then this is a great week for you!
The world-famous rock band dropped a brand new album on iTunes, and it's already been paid for, meaning that it's FREE for us.
Tuesday (Sep 9) after Apple announced their new iPhone 6 and the stunning iPhone 6 Plus, as well as their their new smartwatch, dubbed "Apple Watch," U2 hit the stage to perform their new single "The Miracle (of Joey Ramone)" and also announce that their new album Songs of Innocence would be available for download immediately after.
"Music runs deep in Apple's DNA, and runs through the core of all of our products," said Cook. "Over that time we've built a deep relationship with the music industry and the artists that make it up … A decade ago we began a deep collaboration with one of the best bands of all time — and that band is U2. They have agreed to perform for us today."

Following a performance of new single "The Miracle (Of Joey Ramone)," U2 was greeted by Cook onstage, as well as a round of applause from those in attendance at the Flint Center in Cupertino, Calif. "Wasn't that the most incredible single you've ever heard!" Cook gushed.

U2 frontman Bono then joked about the band's long-delayed follow-up to 2009's No Line on the Horizon, saying that there were multiple albums recorded that didn't quite cut it for the group. Bono said that he wanted U2's new album, which was finished "as of this time last week," to be "as good as our very best work."

The album title was stated, and after some teasing questions ("How do we get this to as many people as possible?" Bono wondered aloud), Bono and Cook revealed that the album was being released to iTunes' 500 million subscribers across 119 countries for free. The album, which Bono called "our most personal record," will be exclusive to iTunes users through Oct. 13. Cook touted the surprise release as "the largest album release of all time."
In an open letter to fans, Bono explained that while the album is essentially free, someone had to pay for it, and while U2 can afford such luxuries as giving away music for free, most musicians cannot:
You'll have noticed the album is free to U2.com'ers from the band. It's also free to everyone on iTunes thanks to Apple. To celebrate the ten year anniversary of our iPod commercial, they bought it as a gift to give to all their music customers. Free, but paid for. Because if no-one's paying anything for it, we're not sure "free" music is really that free. It usually comes at a cost to the art form and the artist… which has big implications, not for us in U2, but for future musicians and their music… all the songs that have yet to be written by the talents of the future… who need to make a living to write them.

We're collaborating with Apple on some cool stuff over the next couple of years, innovations that will transform the way music is listened to and viewed. We'll keep you posted. If you like Songs of Innocence, stay with us for Songs of Experience. It should be ready soon enough… although I know I've said that before…
After U2's new album finishes its "free digital run," it will be released physically on October 14th along with a 24-page booklet, as well as a deluxe edition with four additional tracks.
For those who are unsure of how to claim their free copy of 'Songs of Innocence,' CNET has you covered with this handy guide right here.
Be the first to receive breaking news alerts and more stories like this by subscribing to our mailing list.