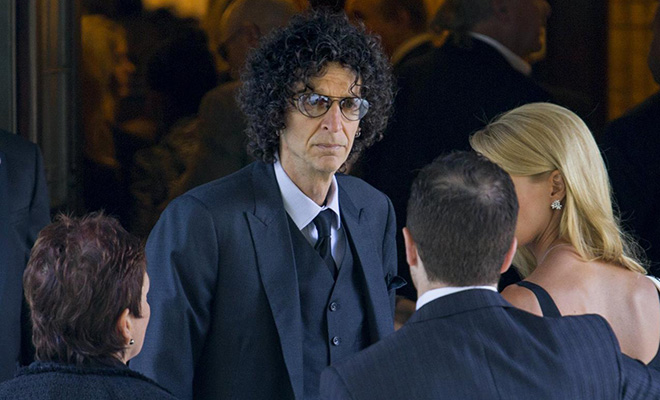 Joan Rivers was laid to rest Sunday morning (Sep 7) at Temple Emanu-El in New York City, and as expected, the funeral service was by all accounts the "showbiz affair" she would have wanted.
According to reports, there were A-list celebs, "an army of paparazzi" and streets blocked off with crowds of people (local residents, tourists, fans, etc.) there to pay their respects to the legendary comedienne.
Rivers died last Thursday at the age of 81, and her funeral was attended by "a legion of notables," the Associated Press reported.
A legion of notables turned out to remember Rivers, who died Thursday at 81: comedians Kathy Griffin, Rosie O'Donnell and Whoopi Goldberg; colleague and friend Kelly Osbourne; Sarah Jessica Parker and Matthew Broderick; and celebrity doctor Mehmet Oz.

Theater stars Bernadette Peters, Alan Cumming and Tommy Tune were there. Record producer Clive Davis was, too. Fashion designers Carolina Herrera and Michael Kors were in attendance. Stars from TV such as Barbara Walters, Geraldo Rivera, Diane Sawyer, Kathie Lee, Hoda Kotb and Andy Cohen. Late night band leader Paul Shaffer. And moguls Barry Diller, Donald Trump and Steve Forbes.
Rivers' own personal funeral wishes, which she wrote about in her book "I Hate Everyone … Starting With Me," were reportedly printed in the funeral program book, along with three of her most famous comedic lines — "Can we talk?", "Who are you wearing?", and "Because I'm a funny person."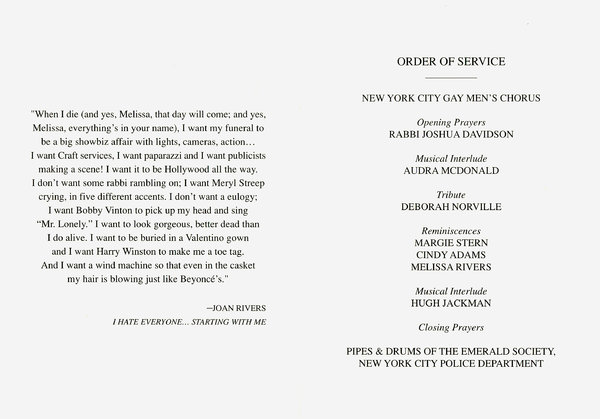 The service opened with the New York City Gay Men's Chorus singing "Hey Big Spender," and Audra McDonald and Hugh Jackman also performed respective tributes to Rivers. The NYPD's bagpipe band played "New York, New York" as the service ended.
There was also a rabbi, who read a passage from Ecclesiastes, according to the NY Times, but he made sure not to "ramble on," per Rivers' wishes.
Although Joan said she didn't want a eulogy at her funeral, Howard Stern stepped up to the plate and eulogized his friend in a way that made everyone in attendance laugh, and most certainly would have made Joan proud.
Stern explained on his radio show on Monday that Melissa Rivers (Joan's daughter) asked him to deliver the eulogy for her mother's funeral just days before the ceremony was to take place, and at first, he was hesitant because he didn't think that he was the right person for the job. But boy was he wrong.
According to ABC News:
"I had gotten a call from Melissa like a day and half before the service asking me if I would speak," he said. "I said to her, 'Melissa, you are asking the wrong guy.' I said, 'I'll do it, I would do anything for Joan, I will do anything for you.'"

The radio host and an icon in his own right added that he thought someone else could do a better job speaking about Rivers and giving her the send-off her knew the comedic legend deserved.

"[Melissa] said, 'No, I want you to do it,'" he added. "It was a lot of pressure because I wanted to come through for Melissa and come through for Joan."

Stern added that he even left the Hamptons and his wife to be alone in the city with his thoughts.

"I didn't want to say the wrong thing," he said. "I was in touch with Louis C.K. and he said, 'You know, Joan really deserves a great send off. He said something very profound. He said, 'Joan was like an aunt or a best friend who could make everything better.' Even in times after say 9/11 or the country just seems to be going down or things just seem to be bad, when she would crack a joke … you didn't feel so alone."

He added, "It just made you feel better knowing Joan Rivers was making a joke about it."
So it goes without saying that Howard Stern opening his eulogy for Joan Rivers by saying she had a "dry pussy" would have certainly been approved by the comedic legend.
From Margaret Cho's account of the funeral, which she posted to her personal blog:
Her signature gardenia perfume mixed with the gargantuan arrangements of the heady white blooms and so her presence was heavy and uncompromised. This is how she wanted us to say good-bye to her, and everyone came early except Donald Trump, who was whisked to the front near the family, ginger hair exploding and obvious over all the yarmulkes.

In the morose silence Howard Stern said, "Joan Rivers had a dry pussy."

At first, the words just hung there, as no one knew exactly what to do. Of course I started laughing hysterically, and everyone else, remembering who we were there to honor, followed suit. Howard Stern actually choked back tears as he continued – "Joan's pussy was so dry it was like a sponge – so that when she got in the bathtub – whooooosh – all the water would get absorbed in there! Joan said that if Whitney Houston had as dry a pussy as Joan's, she would still be alive today…"

It was so wrong but so right at the same time. So Joan. So great. RIP my friend.
"There was a lot of laughs," talk-show host Geraldo Rivera said of Stern's eulogy for Rivers. "He started off with a vagina joke, and it went on from there."
Be the first to receive breaking news alerts and more stories like this by subscribing to our mailing list.