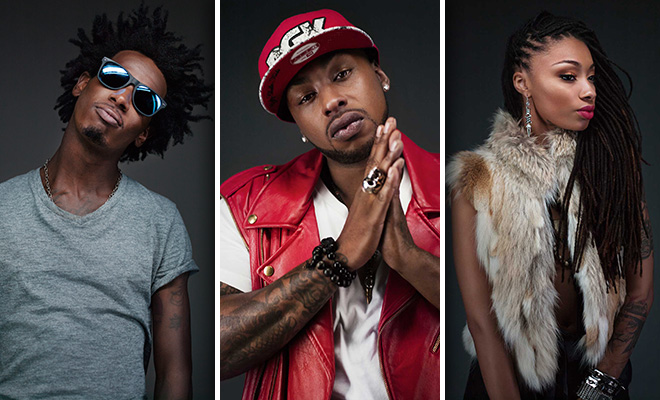 The latest season of VH1's "Black Ink Crew" ended with Ceaser and Puma burying the hatchet and finally getting over their differences … but in a new video that has surfaced online, it appears that whatever beef Caeser and Puma had didn't get fully resolved on the show.
If you'll recall, the two fell out after Ceaser started dating Dutchess, which — after disagreeing on a number of things, both personally and professionally — caused Puma to eventually go on and open his own tattoo shop Ink 124, and by the end of Season 2, they were back friends again. Somewhat.
Fast forward to now, and things are right back where they were at the beginning of the second season of "Black Ink Crew." Probably even worse.
This past Sunday (Sep 7), the cast of the show attended a fashion show at the Highline Ballroom in New York City's Meatpacking District … and we're not sure what happened during the show, but after the show, they took to the streets for an all-out brawl that was captured on video.
In the footage (above), it's clear that it's couple vs. couple, with Ceaser and Dutchess against Puma and his wife Quani.
In the beginning of the video, you can see a woman start to attack Dutchess and they begin fighting. Then you see Ceaser on the ground tussling with some men.

Puma then runs up with a bottle, but luckily, he was unable to hit anyone with it. Ceaser gets up off the ground and throws a quick punch in the face to one of Puma's homies. Ouch!
Shortly after the fight, Ceaser and Dutchess booth took to Instagram and claimed they were jumped.
http://instagram.com/p/sqokCoMbgv/
Ceaser wrote in the caption:
"No scratches,No bruises…. Niggas couldn't beat 1 on 1 so they had to jump me……..this lil nigga is so pussy."
http://instagram.com/p/srBo2uR4SL/
Dutchess deleted the above video, yet this one — which actually shows a snippet of the fight — remains posted to her Instagram along with the caption that follows:
http://instagram.com/p/srLLOlsDsx/
Thanks @gdott for pulling them wack bitches off me and @quazedot @milkman115 thanks for holding y'all Nigga down. #luv men lie women lie but if u was there u know the truth everybody else speculate but they started it by jumping us and it got ended they just couldn't do it check how my man decked pumas boy dubb! He jumps in after his bitch cause she couldn't do no harm to me. Smh #weakasscouple #thatsThewholeTeam and I never even met the bitch she fighting for Quani smh and dubb I won't even go in on how u be acting mad Dixie #teampuma #ink124
SMH … Can't we all just get along?
Sources say someone (possibly Dutchess) was sent to the hospital. Also, while VH1 cameras weren't rolling at the time of the street fight, the crew is in the middle of shooting their third season, which looks like it's going to be a must-watch!
Be the first to receive breaking news alerts and more stories like this by subscribing to our mailing list.