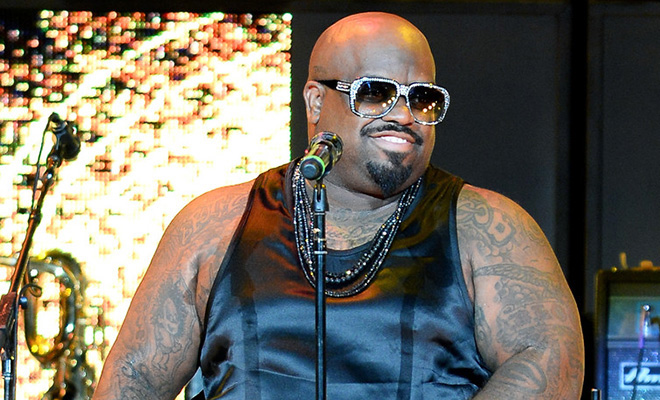 Cee-Lo Green — who was just cleared of date rape charges after copping a plea deal in which he plead no contest slipping ecstasy in a woman's drink — had some pretty awful things to say about the always touchy subject of "rape."
In fact, his comments attempting to define what rape is were so atrocious, we'll just let this screenshot of some of the (now deleted) tweets do the talking: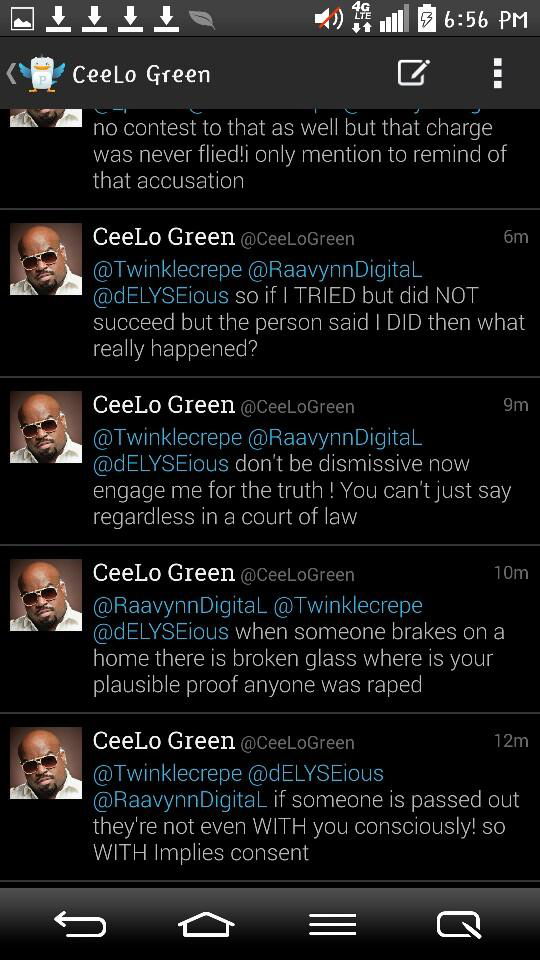 Uhm. wow. OK. Yikes. Did he just compare rape to robbery? And how does one "brake on a home," exactly? Brakes are for cars.
Also, if you're a living, breathing human being over the age of 12 and your brain functions properly, that last line especially should have you like "WHAAAAAAAAT?!?!?"
He said, "If someone is passed out, they're not even WITH you consciously! so WITH Implies consent," which literally makes no sense at all and I don't even feel like figuring out what it means, because it likely doesn't even have a meaning. Just because words are put together doesn't mean they have to make sense.
He also said, "People who have really been raped REMEMBER!!!" which is not only true, but sounds stupid.
THERE IS A SUCH THING CALLED DATE RAPE, AND MOST OF THE TIME, THE WOMEN DON'T EVEN REMEMBER BECAUSE THEY WERE PASSED OUT/UNCONSCIOUS AS A RESULT OF BEING SLIPPED SOMETHING. But of course, under Cee-Lo's absurd logic "WITH Implies consent." So, again … YIKES.
After deleting the tweets (either at the hands of someone on his PR team or when he came to his sense after sobering up 'cause dude HAD to be drunk/f**ked up to tweet what he did), Cee-Lo wrote, "I will not allow that negative energy to loiter on my time line u still got it so keep it! I'm deleting this too."
As promised, he then deleted that tweet and replaced it with a series of "sorry, but not sorry" tweets, not apologizing for what he said, but apologizing for what he said being "taken out of context," which is literally him saying "I'm not sorry for what I said, I'm just sorry YOU got offended."
Then he deleted his entire account.
"I sincerely apologize for my comments being taken so far out of context," Green tweeted before deleting his Twitter. "I only intended on a healthy exchange to help heal those who love me from the pain I had already caused from this. Please forgive me as it was your support that got me thru this to begin with. I'd never condone the harm of any women. Thank you."
The fact that he thought saying "People who have really been raped REMEMBER!!!" and "If someone is passed out, they're not even WITH you consciously! so WITH Implies consent" was conducive to a "healthy" argument about rape should make us all question the level of Black Kirby's intelligence.
His account was eventually restored, but with all of the offending tweets gone, of course. And instead of apologizing for his words being taken out of context, he is now "truly and deeply apologizing" for what he said, which was "idiotic, untrue" and not what he believes.
I truly and deeply apologize for the comments attributed to me on Twitter. Those comments were idiotic, untrue and not what I believe.

— CeeLo Green (@CeeLoGreen) September 3, 2014
Meanwhile, Cee-Lo's new TV show "The Good Life" has been canceled by TBS (after airing just six episodes) over "low ratings," and not specifically for the tweets, the network said, but the timing couldn't have been better.
h/t: BuzzFeed
Be the first to receive breaking news alerts and more stories like this by subscribing to our mailing list.