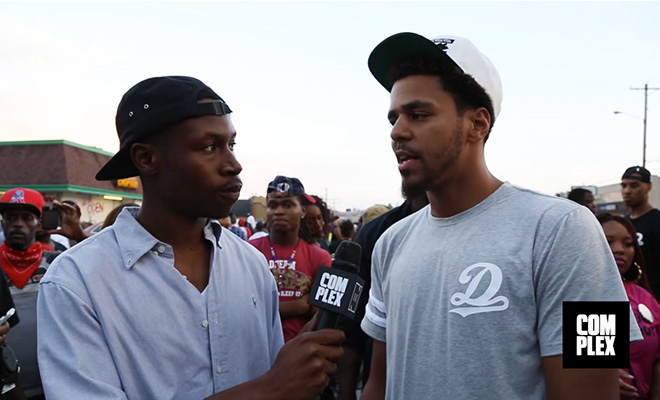 J. Cole made a surprise visit to Ferguson, MO Sunday (Aug 18), days after releasing his "Be Free" tribute song to Michael Brown, the 18-year-old who earlier this month was gunned down in the St. Louis suburb at the hands of police officer Darren Wilson.
While there, Cole spoke to community leaders and supporters, and he also made it known that he did not want to be interviewed.
But fortunately, someone from Complex was able to snag a quick interview, in which Cole was candid and unfiltered while speaking straight from the heart.
Asked why he decided to come out and show support in person instead of just on social media, Cole said:
"Two nights in a row, I watched the live feed. I had already made the song and I was like 'What am I doing?' I got a chance to go be in this and feel this. I called everyone of my homeboys and homegirls that I know and I said 'Yo, do y'all wanna come to Ferguson? I'll pay for your trip and your hotel."
Watch the full interview above.
h/t: The Smoking Section via Complex
Be the first to receive breaking news alerts and more stories like this by subscribing to our mailing list.