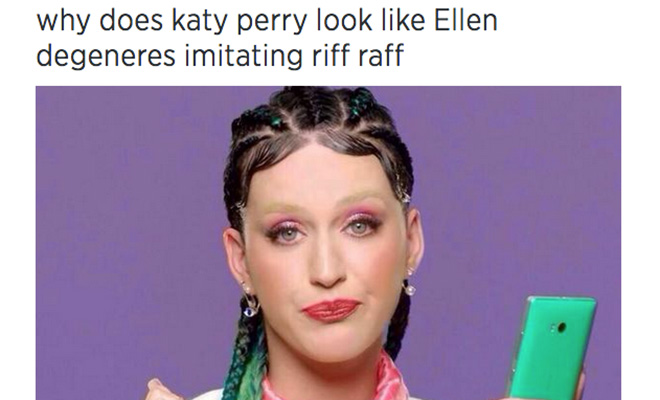 There's so much going on in pop culture these days, it's hard to keep up.
But alas, several Twitter users have apparently had a little time to themselves to deeply think about questions we all may have asked regarding celebs at some point, but couldn't quite articulate the right words to evoke the appropriate inquiry, and they have have taken to the popular micro-blogging service to share their most burning questions about these famous people in 140 characters or less.
Here are 21 questions for celebs that deserve answers:
1.
why does iggy azalea look like doug with a weave pic.twitter.com/jdO90LgIfK

— Elijah Daniel (@aguywithnolife) June 11, 2014
2.
Why does Iggy Azalea look like the seagull from Finding Nemo? pic.twitter.com/2KZqz6TpoG

— ???z?? ¢????? (@TheRawestMike) July 27, 2014
3.
Why does Nicki Minaj look like she wasn't paid enough for this song. #BangBang pic.twitter.com/D6uwLn8JXx

— JOVIEEE (@JOVIEEE) July 30, 2014
4.
Why does Ariana Grande always look like she just farted and it was louder than she thought it was going to be pic.twitter.com/5R7dSC4w5A

— Haley Henschel (@HaleyHenschel) August 18, 2014
5.
why does katy perry look like Ellen degeneres imitating riff raff pic.twitter.com/VI26ORv0Dj

— kelly (@_keIIy_) July 31, 2014
6.
why does Beyoncé look like snoop dogg when her face is swapped with lorde pic.twitter.com/51x6zJNgyg

— abi (@cravingmashton) February 19, 2014
7.
But why does Taylor Swift look just like a white Jay-Z when she has Harry's face though? pic.twitter.com/eScS2kRX

— Calvin (@aurosan) January 6, 2013
8.
why does avicii look like a crusty male version of taylor swift though pic.twitter.com/m0TFJIyIS4

— tyboo ? (@blazeoflight) September 13, 2013
9.
why does Britney Spears look like she's posing with a family member at their graduation day in her m&g pictures pic.twitter.com/xjwV7DUFIV

— george minaj (@_gapc) March 16, 2014
10.
Why does Lady Gaga look like she just signed the Declaration of Independence pic.twitter.com/3ygbQmiBbw

— ¥€$ (@LTimTimDR) June 12, 2014
11.
Why does Lady Gaga look like a drag queen version of Monica Geller pic.twitter.com/YMYewkoU6q

— ? (@CAMERONXCX) June 16, 2014
12.
but why does lady gaga look like a hash brown pic.twitter.com/PCF0ype2br

— ?? (@luisspears) October 24, 2013
13.
Why does Rihanna look like she's about to sneeze into another species………. pic.twitter.com/NmJSdbkt0e

— (@yungxmonet) November 25, 2013
14.
why does selena gomez look like she has babies trying to escape from her knees pic.twitter.com/3CPSA0l8PW

— mya (@arcticmichaeIs) March 16, 2013
15.
Why does lorde look like a piece of paper floating in the water pic.twitter.com/U5dxcjCLar

— Kaleigh Canoy (@kaleigh_canoy) June 4, 2014
16.
Why does Rihanna look like Steve Martin. pic.twitter.com/SYAqW5vYTN

— Panic! at the Muncho (@MunchyVsWorld) February 13, 2014
17.
Why does Miley Cyrus look like a giant baby with her diaper looking high waisted shorts. pic.twitter.com/CgDMyQC6VS

— JKMV (@kaiiinoa) July 22, 2014
18.
But why does #beyonce look like the grinch? pic.twitter.com/MZVNEOoS0v

— Simba (@king_simba47) June 2, 2014
19.
Why James Harden look like he bout to drop the hardest mixtape of 1658 pic.twitter.com/J727S45sDX

— Hubbs (@t_hubbin) August 20, 2014
20.
Why The Rock look like the single mother of two mixed kids? pic.twitter.com/X3HAcSEwhZ

— (@blvkflow) August 17, 2014
21.
Why Jermaine Dupri look like the Flying Dutchman from Spongebob? ???????? pic.twitter.com/2JQND55dBn

— WiFi Goddess; 48k ? (@pipethefckdown_) August 12, 2014
But why though?
h/t: BuzzFeed
Be the first to receive breaking news alerts and more stories like this by subscribing to our mailing list.