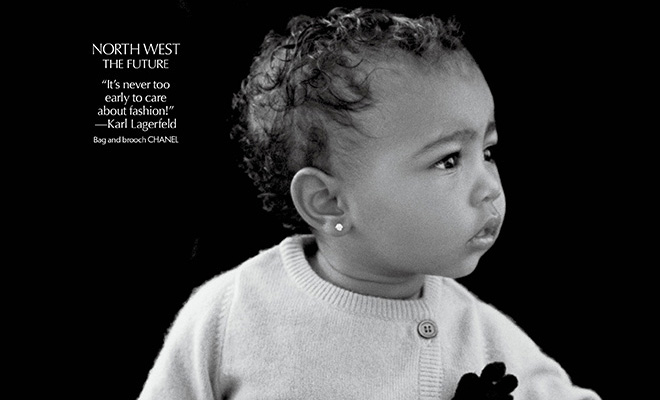 How long can one hold out the word "awwwwwwwwwwww" before it gets too long and annoying? Because … AWWWWWWWWWWWWWWWWWWWWWWWW!!!!!! LOOK AT BABY NORTH WEST!!!!!!
The 13-month-old daughter of Kim Kardashian and Kanye West recently made her official modeling debut in the fall issue of the CR Fashion Book, the same publication that featured Kim last year in a photoshoot while she was pregnant with North.
Last year's photoshoot of Kim showed the reality star in a gold grill and one of Kanye's infamous face masks, and she also flaunted her baby bump. But this year is all about Baby Nori, who, in a black-and-white photo, can be seen looking adorable as ever, rocking a Chanel brooch and bag with Lorraine Schwartz diamond studs in her ears.
North was styled by CR Fashion Book found and editor-in-chief Carine Roitfeld and her outfit likely costs more than rent for most people.
While this may be North West's solo modeling debut, this isn't her first photo shoot. As you'll remember, she was also featured in the March issue of Vogue magazine along with her famous parents, so this is nowhere near new territory for her.
"Every time there is a camera out and paparazzi and they're taking pictures…she does this like either like a mean 'angry Kanye face' or a pose, I can't tell what it is," Kim said Tuesday during an appearance on the TODAY show with Kathy Lee Gifford and Hoda Kotb. "She'll be cracking up and then the second the camera comes on, she's like [doing that pose]."