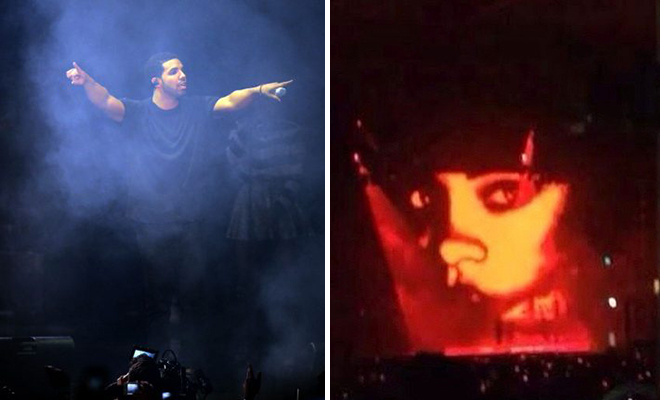 Drake is showing all the signs of a scorned lover. If publicly squashing his beef with Chris Brown wasn't enough, Drizzy is really going out his way to make Rihanna look bad now.
Monday night (Aug 4) at his OVO festival in Toronto, Drake performed "Days In The East" while a devlish photo of Rihanna along with three sixes showed up in the background.
The numbers "6-6-6" are often referred to as the "Number of the Beast" and has been associated with Satan for centuries.
We guess this was Drake's way of saying Rihanna is the Devil … or something? Someone sounds a little bitter!
To be fair, Drake often refers to Toronto (his hometown) as "The 6," and his fourth studio album will be called Views From The 6 … but that still doesn't explain the RiRi imagery.
Do you think Drake is calling Rihanna the devil?
h/t: TMZ
Be the first to receive breaking news alerts and more stories like this by subscribing to our mailing list.